The fourth
Weekly Geeks
is up, and here's what
Dewey says
:
"Choose a political or social issue that matters to you. Find several books addressing that issue; they don't have to books you've read, just books you might like to read. Using images (of the book covers or whatever you feel illustrates your topic) present these books in your blog."
It took some thinking for me to decide what to write about. I considered environmental issues, particularly endangered species (partially because I'm reading a book on that topic at the moment), but
Debi
already covered that perfectly. And
pussreboots
did a great job posting about gay and lesbian rights.I considered picking other kinds of discrimination, but then something else crossed my mind. It's a delicate issue, but I didn't want that to stop me from writing about it. So here we go.
I'm concerned with the way "normality" is being defined in increasingly narrow ways. I really don't want to sound like a radical (or even worse, a scientologist) who'd deny support to those who genuinely need it. But I think that there's too much pressure for people to be "well-adjusted", and too many things whose causes are social being blamed on individuals. I worry about lively and curious children and teenagers being labelled "hyperactive" and medicated. I worry about people living in societies that privilege individualism and lifestyles that result in isolation being told that there's something wrong with them when they feel lonely or sad, and then being fed antidepressants. I worry about the pathologization of grief, sorrow, loss, enthusiasm, joy, the natural confusion of both growing up and being grown up.
But enough blabbing, and on with the books. I picked two books I'm interested in reading and two books that I've read.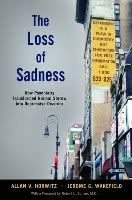 The first is
The Loss of Sadness
by Allan V. Horwitz and Jerome C. Wakefield. I was hesitant about this one at first, because there's a fine line between refusing to pathologize things excessively and neglecting to help people in need, but that Amazon says makes the book sound quite balanced and very very interesting:
"In The Loss of Sadness, Allan V. Horwitz and Jerome C. Wakefield argue that, while depressive disorder certainly exists and can be a devastating condition warranting medical attention, the apparent epidemic in fact reflects the way the psychiatric profession has understood and reclassified normal human sadness as largely an abnormal experience. With the 1980 publication of the landmark third edition of the Diagnostic and Statistical Manual of Mental Disorders (DSM-III), mental health professionals began diagnosing depression based on symptoms--such as depressed mood, loss of appetite, and fatigue--that lasted for at least two weeks. This system is fundamentally flawed, the authors maintain, because it fails to take into account the context in which the symptoms occur. They stress the importance of distinguishing between abnormal reactions due to internal dysfunction and normal sadness brought on by external circumstances. Under the current DSM classification system, however, this distinction is impossible to make, so the expected emotional distress caused by upsetting events-for example, the loss of a job or the end of a relationship-could lead to a mistaken diagnosis of depressive disorder. Indeed, it is this very mistake that lies at the root of the presumed epidemic of major depression in our midst."


This pretty much sums up what I was trying to say.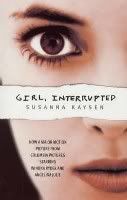 Next:

Girl, Interrupted

by Susanna Kaysen. I remember watching the movie and being very impressed with it, but that was many, many years ago. I've been curious about the book for quite some time, though, and again I like the sound of what Amazon says: "

Kaysen's account goes further and questions the standard notions of sanity and insanity. Her plausible voice allows the reader to accept a world where time is distorted, chaos reigns and questions are left unanswered, capturing perfectly the sense of helplessness and frustration felt by these women. (…)

Girl, Interrupted

is a credible and creditable chronicle of the lives of women in the 1960s who, through the ignorance and narrow-mindedness of society, were contained and monitored for not fitting into the "norm", the mainstream. "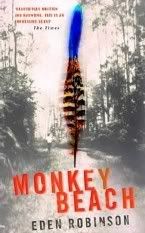 Now a book I've read: One of the many things Eden Robinson's superb novel

Monkey Beach

is about is how Lisa Marie, the protagonist, is taken to a psychiatrist and diagnosed with mental illness. Lisa Marie is a member of the Haisla tribe of British Columbia, and growing up, she was very close to her grandmother, who instructed her in the traditional Haisla ways. These include belief in omens, ghosts and the spirit world. Lisa Marie's parents, more attuned with mainstream culture, worry that the fact that she shares these beliefs is a sign of mental illness. I personally don't believe in ghosts or spirits or omens, but I think that there's something very, very wrong when these beliefs, which have been a fundamental part of several cultures for as long as there have been human cultures, are taken as a symptom of mental illness. This is a good example of the possible tragic consequences of both excessive pathologization and cultural insensitivity. As you can imagine, being told she's crazy doesn't make Lisa Marie's life any easier.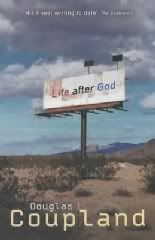 And last but not least,

Life After God

by Douglas Coupland. No, I am not including this book just because it's one of my favourite books ever. It has to do with the topic in an indirect but extremely important way.

Life After God

is the most powerful and touching description of the weight of loneliness I have ever read.

Just one more thing: I know that this is about books, but I have to say that some of the best examples of stories about this topic I've ever seen were movies, namely Garden State and Thumbsucker. And Thumbsucker is based on a novel, so in a way it counts.


---
And now it's time for Trish's Classics Meme:



1. My favorite classic is:




The Adventures of Tom Sawyer

by Mark Twain,

Alice in Wonderland

by Lewis Carroll,

To Kill a Mockingbird

by Harper Lee,

Breakfast at Tiffany's

by Truman Capote,

The Catcher in the Rye

by J.D. Salinger and

On the Road

by Jack Kerouac (these are modern classics, I know, but I think they count).



2. The classic I had the toughest time finishing is:

Dubliners

by James Joyce. I tried. I really did. I can appreciate his writing, but he just leaves me indifferent. Also, I had trouble with

Wuthering Heights

by Emily Brontë (sorry Trish!). I was 14, though, and that might account for it.



3. I would recommend...........to someone who doesn't read a lot of classics or who doesn't generally like classics because:

1984

by George Orwell. I am sure that there are people who don't like this book, but I have a hard time imagining how or why. The reason why I'd recommend it: it's not only gripping but it remains very relevant.



4. To me, a classic book is a book that:

A lot of people have said "stands the test of time", and that was also the first thing to cross my mind. But then I started thinking that there are many, many reasons why some books stand the test of time while others are forgotten that have absolutely nothing to do with literary value. Sometimes it's just that they were declared canonic by the right people at the right time. Another thing that crossed my mind was this: a classic is a book that still feels relevant, that deals with themes we can still identify with no matter how many centuries later. But the thing is, that is probably true of most books. Yes, the circumstances change, but basic human concerns remain more stable than we like to admit. So the short answer is: I don't know.



5. The type of relationship I have with classics is

: curiosity. I don't feel that I have to read them, much less that I have to like them, but I am curious about them, and I do want to read them to see if I can come up with a better answer to #4. Why these books? Why not others?