Dewey asked us
to write a post at the end of the week about how the new policy of adding links to other blog reviews was working for us. In my original post, I said that I wouldn't do it retroactively, but then people left me links to their reviews anyway, and many edited their old posts to include links to reviews of mine, and I began to feel guilty. It's not just a matter of guilt, though: I can see why doing it retroactively is useful. However, I have a largeish amount of old posts to edit, so this will be a long-term project. I
will
add your links to my old posts. But it might take me a while.
Throughout the week, I reminded people to let me know if they had links to other reviews of the book I was posting about. In most cases I didn't have much luck, but I imagine that it had to do with the fact that I was either posting about books that were more or less obscure (like the Zipes book) or books that people read before their blogging days (like
Daughter of the Forest
). I also gave links to old reviews of mine to several bloggers, but I'm a bit behind on that – there are many bloggers that I still plan on sending my links to.
Doing this made me realize that it would be very useful to create a page on my blog where I list the books I've reviewed alphabetically, or by author, or both. This goes along with my plan of creating a page where I list the books I've read this year and last year, and a page with my full challenge history. Several bloggers have done this, and I think it's a great idea. I wish I had tabs at my disposal like those of you who use Wordpress do, but I still should be able to work something out. It will be time consuming, though, so who knows when I'll do it.
---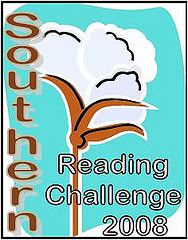 And now! Resistance is futile. I had too much fun with the Southern Reading Challenge last year to say no. I did entertain the idea of resisting for, oh, an hour or two. But seeing the enthusiasm and the picks of fellow participants was the final straw, and I caved. Here's what I'll be reading:

The Known World

by Edward P. Jones (I mooched it a while ago, and I was planning on reading it for the Pulitzer Project anyway.)


Looking for Alaska

by John Green (I've wanted to read it ever since I read Dewey's review, and plus, Eva recommends it.)


Mr. Sebastian and the Negro Magician

by Daniel Wallace (It's Daniel Wallace! I've been looking for an excuse to read this one for some time.)
---
I finished

Persepolis

yesterday and I really want to tell you all how great it is, but I'm too tired/lazy today, and I want to do the book justice, so I'll leave that for tomorrow. I am now diving my time between Roald Dahl and E. Nesbit (the Brothers Grimm are being neglected, I'm afraid) and I love them both. They both have a great sense of humour. I already knew that about Dahl, of course, but this is my first novel by Nesbit and it's even better than I thought it would be.