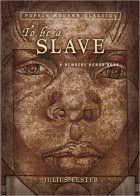 "To be a slave. To be owned by another person, as a car, house, or table is owned. To live as a piece of property that could be sold—a child sold from its mother, a wife from her husband. To be considered not human, but a "thing" that plowed the fields, cut the wood, cooked the food, nursed another's child; a "thing" whose sole function was determined by the one who owned you.
To be a slave. To know, despite the suffering and deprivation, that you were human, more human than he who said you were not human. To know joy, laughter, sorrow, and tears and yet be considered only the equal of a table."
In
To Be a Slave
, Julius Lester tells the history of slavery in America. His own narrative is alternated with slave testimonies – some from nineteenth century slave narratives, some taken down by the Federal Writer's Project in the 1930's. The result is an incredibly sad, powerful and informative book.
The structure works really well, and I was impressed with how well-rounded the book is. I won't say it shows the good and the bad because that makes no sense when it comes to slavery, but it does show the various types of experiences that existed within slavery: being born a slave versus being dragged from your homeland and cast into slavery, despising your owners versus identifying with their ideas, helping others escape versus betraying them, different reactions to the end of the Civil War, etc. As with everything, there were probably as many different ways to experience slavery as people who experienced it.
As I said, the book is incredibly well-structured, with chapters on how slaves were captured, the auction block, life on the plantations, resistance to slavery, emancipation, and life after the end of the War. The only problem, if I can call it that, is that at 156 pages the book doesn't provide a lot of detail. But this is, after all, a book for children, and one of the best, if not the best, non-fiction children's books I have ever come across. The book works as an introduction to the topic, and there's a bibliography at the end that is very useful to those who want to read more.

Despite having written the book with children in mind, Julius Lester doesn't shy away from showing the horror of slavery. As he says in the introduction,

my underlying and hidden purpose was simply this: If a child could experience slaves as human beings, then it might be possible for that same child to look at the descendants of slaves and also see another human being, no more, no less.

And to experience slaves as human beings, one has to be shown the consequences of what they were put through. There were countless horrific episodes in the book, but I think this was the one that affected me the most:

Mother, she give out on the way, 'bout the line of Texas. Her feet got raw and bleeding, her legs swoll plumb out of shape. Then massa, he just take out his gun and shot her, and while she lay dying, he kick her two, three times, and say, 'Damn a nigger what can't stand nothing.' You know that man, he wouldn't bury Mother. Just leave her laying where he shot her at.
I hadn't even heard of this book until recently, and I can't thank Debi enough for bringing it to my attention. Just recently I also acquired

Bullwhip Days: The Slaves Remember

via Bookmooch, a book that does pretty much the same as

To Be a Slave

, but aimed at adults and in more detail. I'll let you know about it after I read it later this year.



Other Blog Reviews:


Words by Annie
Nothing of Importance

---
I'm finally going to do the Six Random Things About Me Meme! I apologize to Mrs S for the delay.

Something I've been meaning to share: I have a new dog! He's a Portuguese Mountain Dog, about one year old, gorgeous and very very friendly. He's already huge, but he still acts like a puppy, lol. He constantly wants to play. He was a stray even though he's purebred, and the vet says that the reason why he was abandoned was probably the fact that he suffers from canine hip dysplasia. Whoever had him before probably wanted him for breeding purposes. Since the condition is hereditary, once they realized he had it they got rid of him. There is no cure for hip dysplasia, but with treatment he can have a comfortable life, and we're determined to give him one. The other dogs like him, fortunately, but the cats are not amused. He's completely harmless, though, so hopefully they'll eventually realize there's no danger and get used to him. Here's a picture:





Still on dogs, I had a dog of that exact same breed from ages 7 to 19. He was named Pluto, and one of the scariest moments of my life was when he came running towards me and knocked me down. My fall was so violent that I couldn't breathe for about 15 seconds, and lying there gasping for breath was one of the scariest things ever. I seriously thought I was going to die.


I love the word "shenanigans", and I'm beginning to suspect that its presence in a book (or other piece of fiction) is a sure sign I'm going to like it. For example,

Tigerheart

by Peter David, which I love so far, has it on page four.

Voice of our Shadow

by Jonathan Carroll had it on the first chapter as well. Another example is the movie Juno. My boyfriend and I have an ongoing private joke with that word. I'll spare you the details, but it started with this lolcat.


I'm going to spend this summer in Brazil - I booked my flight last week! I'm leaving on the 7th of July and staying until late August. I'm taking my laptop, so although I will post considerably less, I won't disappear completely. The 7th of July is, very interestingly, the day after the Paraty Literary Festival ends, a festival where Neil Gaiman is going to be, and which is more or less in the same area where I'll be. Sigh.


I have a bizarre habit that even fellow booklovers consider weird. Sometimes – not often – when I'm reading a book and there's a paragraph or a line I really love, or it suddenly hits me how incredible the book is and that it will surely become a new favourite of mine, I kind of stop reading and hug the book and stroke the cover. And then I catch myself and glance around surreptitiously to make sure nobody's seen me.


I am unreasonably scared of moths. Winged things in general make me shudder, especially if dead. And, ironically, I seem to have an uncanny ability to spot dead birds before anyone else sees them and warns me to look away.
Tagging time: My chosen victims are Valentina, Lightheaded, Jean Pierre, Chris, Debi, and Tanabata. I don't want any of you to feel like you have to do it, but I'd love to learn more about you, so if you feel like it, please do.