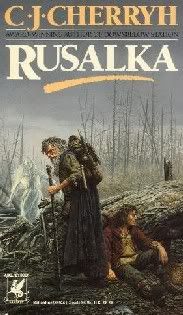 In the small town of Vojvoda, in old Russia, Pyetr Kochevikov is unfairly accused of using sorcery to kill a man. He is saved from a sure hanging by young Sasha Misurov, a stable boy at a local inn, who helps him hide. Most of the townsfolk regard Sasha with suspicion. Rumour has it that he was "born on a bad day", and that the fire that killed his parents when he was a young child was somehow his doing. They say that Sasha brings bad luck, and his uncle, the owner of the inn, constantly reminds him that if so much as a mug is broken in his presence, he will be swiftly and unceremoniously expelled from their household.
Pyetr and Sasha leave Vojvoda together, travelling through a forest with the intention of reaching Kiev, where they mean to start new lives. But old Slavic forests are tricky places. Unlike Sasha, Pyetr doesn't believe in grandmother tales about supernatural creatures. But when they reach the cottage of the wizard Uulamets and discover what dwells in the forest and in the river, he is given several good reasons to change his mind.
In Slavic folklore, a
rusalka
is a particular type of ghost that can be found in rivers and other waterways. In some versions, rusalki are the ghosts of young women who died by drowning, and the more gruesome their death, the more powerful they will be. Rusalki who were murdered will want their deaths avenged, and will suck the life out of whatever creature they come across to find the energy to fulfil their goal.
Rusalki always had a very strong grip on my imagination, and that was the original reason why I picked up this novel. And I an in awe of how perfectly Cherryh brought these and other creatures of Slavic folklore (like the
leshy
or
domovoi
) to life. Having read
The Secret History of Moscow
recently, a novel that also makes extensive use of Slavic folklore, I couldn't help but compare the two. I have the feeling that
The Secret History of Moscow
works at least partially based on assumed previous knowledge – when I read the book, I brought what I knew of Russian folk and fairy tales into it. Ekaterina Sedia names several beings from these tales, but she doesn't evoke them as fully as Cherryh does. I wonder if the fact that Sedia is Russian has something to do with this – perhaps that sort of knowledge comes so naturally to her that she doesn't feel the need to spend as long building up the mood that these beings evoke. And so things are unintentionally made a little harder for readers. But I digress.

My point is that Cherryh recreates these beings perfectly and evokes an old haunted Slavic forest with equal perfection. She builds the exact right sort of mood – mysterious and sinister and dark in vague, unsettling ways. And speaking of sinister, I am not easy to frighten, but this book made my heart pound several times. More than concrete scary scenes, it was the mood that did it, the unbelievably creepy and oppressive mood.

But there is, of course, a lot more to this book than mood. The characterization was perfect, and I loved how complex the relationships between the characters were. I loved watching Pyetr and Sasha's friendship develop. The human side of the story was intense – almost too intense at times. By the end of the story I was feeling emotionally exhausted.

There isn't much more I can say about the story without spoilers, so I'll end with this: it's a story in which there is much more at stake than you initially realize. There are more players in the game than you'd think. There are secrets which are slowly and grudgingly revealed. There are sides to the characters that you couldn't have imagined, yet when you see them they fit perfectly. It's an excellent book.



Other Blog Reviews:


Tip of the Iceberg

(Remember, let me know if you have a review of this one and I'll link to it.)