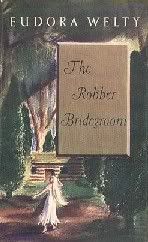 Part historical tale, part retelling of a myth, and part fairy tale,
The Robber Bridegroom
is a wonderfully odd novella. The story is set in the early nineteenth century, in the Natchez Trace, Mississippi, and it focuses on Clement Musgrove, a pioneer plantation owner, his daughter Rosamond, her less than friendly stepmother, and a few legendary outlaws.
The story's fairy tale tone is obvious from the very first paragraph:
It was the close of day when a boat touched Rodney's Landing on the Mississippi River and Clement Musgrove, an innocent planter, with a bag of gold and many presents, disembarked. He had made the voyage from New Orleans in safety, his tobacco had been sold for a fair price to the king's men. In Rodney he had a horse stabled against his return, and he meant to spend the night there at an inn, for the way home through the wilderness was beset with dangers.
The Robber Bridegroom
is named after a
Grimms fairy tale
, and the story uses some elements from it, but in a loose enough manner for it to be inaccurate to call it a retelling. It uses at least as many elements, if not more, from the myth of Eros and Psyche. There are also hints at other fairy tales – someone being punished by being forced to dance until they drop dead, a girl not being recognized by her lover because she is covered in cinders, two men who sneak out of their beds at night and watch a robber try to kill them, and in the morning say they barely felt anything at all "except for some rats which slapped [them] with their tales once or twice in the night."
This is a story of the Deep South, the mythologized south of tell-tales. It's a world of large plantations and slaves, of Spanish settlements, of Native Americans that are perceived as bestial but powerful (the constant talk of "savages" was the one thing about the story I didn't like, but I suppose it reflects the prevalent attitudes of the time in which it is set), of magic, of outlaws, of mysterious wildernesses. This distinctively Southern feel combined with fairy tale elements reminded me a little of one of my favourite authors, Daniel Wallace. The combination is a great one, and the result is a very strange and completely engrossing tale. I leave you with a favourite bit:
The only thing that could possible keep her from being totally happy was that she had never seen her lover's face. But then the heart cannot live without something to sorrow and be curious over.

Other Blog Reviews:
A Peek in the Cupboard