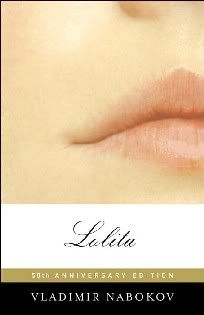 As I'm sure most of you know,
Lolita
is the story of Humbert Humbert, a self-confessed paedophile, and his obsession, and eventual involvement, with twelve-year-old Dolores Haze. Humbert tells his story in the first person – this fictional memoir opens with a preface in which we are told that he died in prison shortly after its completion. He explains that his sexual obsession with a particular kind of pubescent girls – which he calls "nymphets" – probably came about because of a non-consummated passion for a girl named Annabel when they were both young. Then he recounts how he came to meet Lolita, and to eventually marry her mother to remain close to the girl.
Yes, this story is an unsettling one. But the book is so beautiful. Its charm is not in the story, but in the telling. Nabakov's prose is intoxicating, and his portrayal of longing, especially in the first part of the book, is one of the most striking ones I've ever seen – if you manage to detach yourself from the fact that the object of the narrator's desire is a twelve-year-old girl, which is something I understand that not all readers will be willing or able to do.
(This reminds me of something Nick Hornby says in
The Polysyllabic Spree
, when writing about a thriller whose title and author I can't remember: that since he became a father, he has trouble reading any kind of fiction in which children come to harm, because he can't stop his imagination from projecting his own children in the shoes of the characters.)
But back to longing, and to the delicate precision with which this book describes it. The writing reminded me of Jeffrey Eugenides, who is not my favourite writer, but is the writer whose writing I like the most. I googled to check if he cites this book as an influence, and voila, yes he does. And I can see why. Like
Middlesex
, this book had me stopping at times to collect myself. It was that good.

And there's humour! Really, there is. Somehow I expected the book's mood to be sombre, but it isn't. Not in the least. I really have to thank Rhinoa for picking this for our mutual challenge, because who knows when I'd have picked it up otherwise. Not because of the topic, but because I imagined it to be completely different: heavy and tragic and dark and disturbing. Which it actually is, but in different ways than I imagined.

Reading this got me thinking about whether I need to like a book's main character to enjoy it. A book with a main character that bores or annoys me throws me of. But there is, for me, an undeniable appeal to characters as unashamedly dislikeable as Humbert Humbert. He makes no excuses for himself, no plea for sympathy, and I think that this is one of the things that hold the book together. He doesn't ask for understanding or forgiveness. He simply tells his story. Nothing more.

I will leave you with a quote by Amy Tan, which expresses my feelings about

Lolita

more eloquently than I could:

I often reread passages of "Lolita" for its exquisite language. To me, "Lolita" has no message, no purpose, other than to exist as a marvel of literary creation. It has wit, intelligence and style. It pointedly makes no attempt to serve a higher moral purpose, and previous attempts by critics to find one have proven ludicrous. The annotated edition is accompanied by a brilliant afterword by Nabokov that is a lucid reminder of the pure joy of writing, its interplay with life.
Other Blog Reviews:


Rhinoa's Ramblings
Book-a-rama
Maggie Reads
Book Addiction
The Inside Cover
Just Add Books
Adventures in Reading
Dolce Bellezza
Booknotes by Lisa
Trish's Reading Nook
Melody's Reading Corner

(Let me know if you've also reviewed it and I'll add a link to your post)