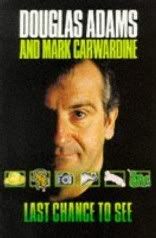 Last Chance to See
documents several expeditions taken by Douglas Adams and zoologist Mark Cawardine to see some endangered species while they were still around to be seen. It all began in 1985, when the
Observer Colour Magazine
sent them to Madagascar to look for the aye-aye, a very rare nocturnal lemur. Then in 1988 they took several journeys, which resulted in a BBC4 radio series and this companion book.
These journeys took them to Indonesia to see the komodo dragon, to Zaire to see the mountain gorilla and the northern white rhinoceros, to New Zealand to see the kakapo ("the world's largest, fattest and least able to fly parrot"), to China to look for the Baiji river dolphin, and finally to Mauritius to see the Rodrigues Fruit Bat and several endangered species of birds.
I don't normally quote from blurbs, but there's no point in my sitting here trying to figure out how to express something when I have the perfect sentence right in front of me. Here's what the
Los Angeles Times
said: "He fails completely in the self-righteous pity department. Instead he invites us to enter a conspiracy of laughter and caring." That's exactly what makes this book so perfect – "a conspiracy of laughter and caring". This is a funny, passionate, informative and important book. It's also very touching at times. It's a book that makes you care.
I thought it'd be interesting to let you know how some of these species are doing 20 years after these expeditions took place. Let's start with the worst news.
The Baiji River Dolphin
, of which there were 21 in 1988, is now functionally extinct.
The Northern White Rhinoceros
is still critically endangered. The species more or less recovered in the 1990's, but poaching reduced them to as few as 13. The
kakapos
are doing better – there were less than 40 at the time
Last Chance to See
was written, and there are currently 92. But here I have to cite what Douglas Adams says at the end of the book: "The bats are doing just fine. There are hundreds of them. I have a terrible feeling that we are in trouble."


Then there are of course the Mountain Gorillas, which also remain critically endangered. Douglas Adams and Mark Carwardine visited them at the Virunga Mountains, the same place where famous zoologist Dian Fossey worked. She was passionately against tourists being allowed to visit the gorillas at all, and this remains a controversial topic. Douglas Adams says that the truth of the matter is that tourist revenue helps fund conservation projects, and it's also a good argument against poaching by making gorillas more valuable for the local economy alive than dead. But there are risks. Because the gorillas are so genetically close to us (almost as close as the African and the Indian Elephant are to each other), they are vulnerable to some of the same diseases that affect humans, except that they are much more devastating for them than they are for us. A tourist infecting and eventually causing the death of gorillas is something that can and has happened (Incidentally, has anyone read

Gorillas in the Mist

? I'm thinking of picking it up).

The part where Douglas Adams describes his meeting with the gorillas is one of the most memorable and touching parts of the book. You have to see how he describes it. He conveys the emotionally impact of the experience so well.

At this point I have to see that part of what made this book so perfect for me was the fact that it gave me the chance to spend time with Douglas Adams. The book is infused with his wonderful sense of humour, with his intelligence, with his unique way of being both cynical and warm, both sad and hopeful. I wish he was still around.



Last Chance to See

is a book about endangered species, but it's also a travel book – Douglas Adams shares his impressions of Indonesia and Zaire and New Zealand and China. For me, his thoughts on China were the most interesting of all, and there was a hilarious episode in which he describes what happened when they had to buy condoms in China to soundproof their microphone and record the noise of motorboats as heard by the dolphins underwater.

I will shut up now, and leave you with some favourite passages:

We talked about how easy it was to make the mistake of anthropomorphising animals, and projecting our own feelings and perceptions on to them, where they were inappropriate and didn't fit. We simply didn't have any idea what it was like being an extremely large lizard, and neither for that matter did the lizard, because it was not self-conscious about being an extremely large lizard, it just got on with the business of being one. To react with revulsion to its behaviour was to make the mistake of applying criteria that are only appropriate to the business of being human. We each make our own accommodations with the world and learn to survive in it in a different way.

I watched the gorilla's eyes again, wise and knowing eyes, and wondered about this business of trying to teach apes language. Why? There are many members of our species who live in and with the forest and know it and understand it. We don't listen to them. What is there to suggest we would listen to anything an ape would tell us? Or that it would be able to tell us of its life in a language that hasn't been born of that life? I thought, maybe it's not that they have yet to learn a language, it is that we have lost one.

" thought to myself that the words 'endangered species' had become a phrase which had lost any vivid meaning. We hear it too often to be able to react to it afresh.
Other Blog Reviews:


Wrapped Up in Books
Age 30 - A Year of Books
(Got any more? Please let me know and I'll add a link)