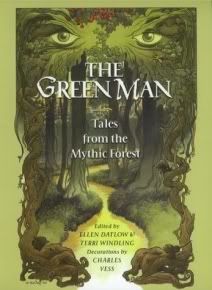 "Forest have provided the setting for some of the most enchanted tales in world literature, from the perilous woods of medieval Romance and the faery-haunted glades of Shakespeare and Yeats to the talking trees of Tolkien's
Lord of the Rings
and the archetypal wilderness of Robert Holdstock's
Mythago Wood
. In this book, we've asked the writers to journey deep into the Mythic Forest, to bring back tales of those wild lands and the creatures that dwell within them."
From the Preface

The Green Man: Tales from the Mythic Fores
t is an anthology of short stories inspired by forest and trees, the grip they have on our imagination, and the mythology of the green man. In the introduction, Terri Windling writes about
Green Man mythology and iconography
and other types of forest lore that can be found across different cultures and different ages.
The authors that contributed with stories and poems to this anthology include Neil Gaiman, Jane Yolen, Charles de Lint, Delia Sherman, Emma Bull, Gregory Maguire, Midori Snyder, Tanith Lee, Patricia A. Mckillip, among others.
You'd think that an anthology of this kind would run the risk of being samey, but this is completely avoided by the fact that the authors picked different angles from which to approach the theme. The inevitable result of this was that some approaches worked better for me than other, but I undoubtedly prefer this to a group of repetitive stories.
Some writers, like Delia Sherman, explore how the magic of the forest remains present in contemporary urban settings. Others, like Michael Cadnum and Carolyn Dunn, use a mythological approach, retelling the myth of Daphne and Apollo and including aspects of Native American mythology in their stories, respectively. Gregory Maguire retells a fairy tale, Jack and the Beanstalk, in a humorous and original way. Nina Kiriki Hoffman and Midori Snyder both write about the healing potential of forests, but they each do so in their own way. Tanith Lee's approach is more reminiscent of high fantasy, while some other stories could be labelled urban fantasy.
Let me now tell you about my favourite stories in some more detail:
First, there's Charles de Lint "Somewhere in My Mind There Is a Painting Box", which was a favourite of mine in

Waifs and Strays

and remains a favourite here. I wrote about this story recently so I won't do it again, other than to repeat that it's very good.

Emma Bull's "Joshua Tree" was my absolute favourite. It's about a young girl named Tab growing up in a small town in the desert, and what drew me in right away was her voice: an authentic teenage voice, with no exaggerations. Joshua Tree is a story about longing, loneliness, growing up and making friends. This story, combined with Valentina's recent glowing review of

War of the Oaks

, strongly suggests that I need to read more Emma Bull.

Jeffrey Ford's "The Green Word" is another story that uses a high fantasy approach, and it tell what happens with King Pious tries to defeat the forest people. The result is a very gripping and beautifully written story that is in some ways reminiscent of the tale of Sir Gawain and The Green Knight.

Finally, "The Pagodas of Ciboure" by M. Shayne Bell is another story I had read before – in the 2003 edition of

Year's Best Fantasy,

edited by David G. Hartwell, and I think that the fact that five years later I remembered it perfectly says a lot. This story beautifully reimagines the childhood of early 20th century French composer Maurice Ravel. And of course, it features pagodas – not the oriental-style buildings, but "creatures of crystal, porcelain and jewels that inhabit the forests of France." I'd come across them before in the works of Madame D'Aulnoy (in my favourite of her fairy tales, actually – The Green Serpent) and they charm me every time.

I'll just add that, like with all the Datlow/Windling anthologies I've read to date, I love the way this one is organized: each story is followed by some information about the author combined with what they have to say about the story they wrote for the anthology. Plus, Charles Vess' inside decorations, along the cover, go a long way to make this book a thing of beauty.

Other Blog Reviews:
Confessions of a Book Addict
Purply Cookie