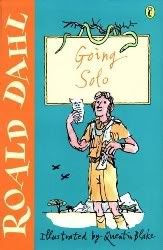 Going Solo
is Roald Dahl's account of his years working for Shell in what is now Tanzania, and of his experience as a RFA pilot during World War II. The story takes up where
Boy
, Dahl's previous memoir, left off: he is 22 and about to depart to Africa in a ship called the SS Mantola. He'd been in Africa for almost a year when, in September 1939, the Second World War officially began, and shortly thereafter he joined the Royal Air Force and became a pilot.
The first third or so of the book is, as you can imagine, much lighter than the rest. But throughout the whole book you can find Roald Dahl's unique mix of tragedy, poignancy and humour. There is, for example, an unforgettable episode in which an elderly lion runs off gently carrying the cook's wife between his jaws, and I can't imagine any other writer describing it the way Dahl does (for the record, in the end neither the cook's wife nor the lion were harmed, and incidentally, did you know that "simba" was Swahili for lion? I did not.)
The outbreak of the war brings about a series of uncomfortable situations, both for Dahl himself and for the reader. Roald Dahl was among those responsible for imprisoning all German citizens in an interment camp when war was declared. These were civilians whose only crime was being German, and therefore "the enemy". From a strategic point of view, I suppose I can see why this was done, but from a human point of view, well, it's quite horrifying. I guess it's one more example of how in a war terrible things are done even by those who are fighting for a just cause.
There's an even worse episode involving a beheading, and I simply can't decide what I think of the whole thing, or of the way Roald Dahl handled it. I'll say one thing: I admire him for speaking of it at all. I can't say much more or else I'd be giving too much away, but I'll say that it's the kind of situation that exemplifies how tricky the kind of relationships and dynamics colonialism creates are.

Shortly after becoming a pilot, Dahl miraculously survives a plane crash in the desert, and after a long and painful recovery, he joins the RFA squadron in Greece, where they are ridiculously outnumbered – fourteen Allied pilots (well, to begin with anyway. They weren't to remain fourteen for much longer) against hundreds of German ones. I would never imagine that I'd find descriptions of air battles so interesting. But what interested me the most was what Dahl had to say about the way in which the war was being fought – he thinks that hundreds of lives were wasted more due to bad planning than to enemy action.

While I think I preferred

Boy

,

Going Solo

is undoubtedly a very interesting book. It's uncomfortable at times, but for that very reason it will give readers of all ages a lot to think about.

(Remember: Let me know if you've also reviewed this one and I'll link to your post.)