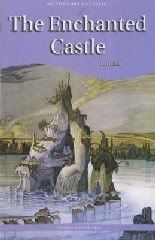 The Enchanted Castl
e is the story of three siblings, Gerald, Jimmy and Katherin, and of their friend Mabel. When spending a summer under the care of a French governess, the children discover a tunnel that leads to a castle, and decide to pretend that the castle is enchanted. But when they come across what seems to be a sleeping princess at the centre of a maze, a series of unbelievable things begin to happen, and what was shaping up to be a peaceful summer turns out to be a very adventurous one. Among the things they come across are magic rings that make the wearer invisible, but to which there is more than meets the eye (yes!), secret identities, secret passages, dinosaurs, Ugly-Wuglies, statues that come alive in the moonlight, Greek gods and goddesses, and much, much more.
Books with the kind of narrator
The Enchanted Castle
has – the conversational kind, who addresses the reader and interrupts the story with little observations – can go both ways for me. They can either annoy me or they can draw me in and make me feel like I'm being told a story by a benevolent and good-humoured figure. I am happy to say that the latter happened with this book.
For example, in the very first page of the story, there was an observation that made me like the narrator right away:
"And they were at school in a little town in the West of England – the boys at one school, of course, and the girls at another, because the sensible habit of having boys and girls at the same school is not yet as common as I hope It will be one day."
Considering that the book was originally published in 1907, I thought this was quite an interesting comment. Unfortunately, later on the narrator makes several remarks about how very shameful it is for boys to cry, and this was especially disappointing for me because of the expectations that initial comment had created. But ah well.
Despite that, I did like the narrator, and I liked the characters even more. The oldest of the three siblings, Gerald, has the annoying (to his brother and sister) and endearing (to me) habit of narrating their adventures as they are living them:
"'The bold captain, reproving the silly chatter of his subordinates—"
'I like that!' said Jimmy, indignant
'I thought you would,' resumed Gerald - 'of his subordinates, bade them advance with caution and in silence, because after all there might be somebody about, and the other arch might be an ice-house or something dangerous.'"
This book reminded me a little of Diana Wynne Jones – the humour, the warmth, and especially the way the story mixes magic and extraordinary events with the everyday lives of its young protagonists. There was also the fact that the story has a more personal side to it, and a twist involving past secrets being revealed (although I have to say that Nesbit didn't manage to surprise me the way Diana Wynne Jones often does).



The Enchanted Castle

is a fun and charming story, and I can certainly see why 101 years later it hasn't been forgotten

There is, however, one thing I have to mention. When I posted about Jane Yolen's

Touch Magic

, I mentioned that at some point she says that, returning to the work of E. Nesbit as an adult, she was surprised to find thinly veiled prejudices that she had no recollection of reading as a child. The reason why she missed them was because they were subtle – they were social assumptions rather than personal beliefs.

E. Nesbit is known for her involvement with the Fabian Society, and I don't mean to say that she'd be hateful to a black person or a foreigner if she came across one. I don't know whether or not she would be, but I'd like to believe that when facing real people she'd question certain social assumptions.

But for example, at one point in the book Gerald disguises himself with charcoal to perform magic tricks at a fair, and the word "nigger" is very casually thrown around. And at another point, it is said that she children's French governess is kind

despite the fact

that she is foreign. I suppose that what we have to bear in mind is that these prejudices were quite common at the time, and that what is now racial slur did not have the same weight back then – it wasn't necessarily a deliberate attempt to hurt or demean others. According to wikipedia, "In the United Kingdom, "nigger" is now established as a derogatory word, but as recently as the 1950s it was widely regarded as acceptable in Britain for black people to be referred to as niggers."

These things are, of course, revealing of social attitudes, and there's a lot that could be said about that. I was quite surprised to come across this in what is otherwise a charming and harmless children's novel, but I suppose that this is a common enough occurrence when one reads older books.

Reviewed at:
Just One More Chapter
Eva's Book Addiction