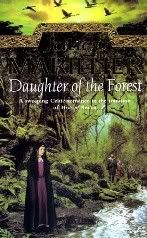 Set in ancient Ireland,
Daughter of the Forest
is the story of Sorcha. Sorcha's father is Lord Colum of Sevenwaters. Her mother died shortly after giving birth to her, and as a result her father became an emotionally restrained man who barely pays any attention to her. She was brought up by her six older brothers, to all of whom she is very close. Things at Sevenwaters begin to change when Lord Colum unexpectedly brings home a woman he introduces as his bride-to-be. The Lady Oonagh is a mysterious woman who possesses strange powers, and she makes her dislike for Lord Colum's children known in increasingly chilling ways. Then one day, she casts a spell over Sorcha's brothers that only Sorcha can lift – but at what cost?
Daughter of the Forest
uses plot elements of the
Six Swans fairy tale
, but there is a lot more going on in the story. The conflict between Celtsand Britons, for example, is an important part of the plot. The mutual distrust between both sides is exacerbated with the British occupation of the Celtic Holy Isles. Both sides regard the other as strange, savage and cruel, and part of what this story is about is questioning this distrust and learning to see one's enemy for what he is: another human being.
Another prominent theme is the importance of stories, of myths – there are several instances in which Sorcha tells another character a story from Celtic mythology. The book is also full of references to tree lore, old Druidic traditions, the Fay Folk, and bewitching forests.
I absolutely loved this book. I stayed up very late one night finishing it, and that hadn't happened to me in a very long time. Also, even though I know the fairy tale and thus knew more or less how things would turn out, there were times when I was so anxious for Sorcha I had to resist the temptation to peek ahead – and bear in mind that I pretty much never feel that temptation.

There is nothing like the pleasure of losing yourself in a rich, detailed story, and this book provided just that. What can I say, I'm a sucker for Celtic settings, and even though recently that kind of novel has become common enough for Celtic fantasy to be called a subgenre, I think that

Daughter of the Forest

is hard to top.

I really liked how the relationship between Sorcha and her brothers was portrayed. Their bond was real, and this made Sorcha's sacrifice on their behalf much more believable and easier to relate to. I also liked how the romance was also real, how it was developed slowly, how the story didn't follow the unfortunately common love-at-first-sigh path.

Plus, the book avoided a pitfall that you sometimes find in stories with strong female protagonists that supposedly have a feminist edge – it didn't try to put men and women in opposition, it didn't stress their differences instead of their common ground. And of course that reinforcing gender stereotypes under a different guise is not what stories should do, so I'm never happy when I come across that. But even though

Daughter of the Forest

is a story about a strong young woman who is hurt by men, it is not a story in which women and men are enemies, or are different beyond conciliation.

My only complaint, if you can call it that, is that at the end of the book some questions linger, but this is, after all, book one in a trilogy, so I suppose that the next one will provide the answers. My edition has an excerpt of the first chapter of

Son of the Shadows

, which is about the next generation of the Sevenwaters family. I can't wait to read it.

Other Blog Reviews:
Stella Matutina

(Let me know if I missed yours)