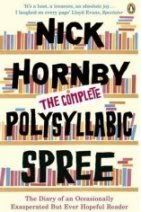 The Complete Polysyllabic Spree
collects Nick Hornby's "Stuff I've Been Reading" columns, published between September 2003 and June 2006 in the magazine
The Believer
. This edition contains both
The Polysyllabic Spree
and
Housekeeping vs. The Dirt.
Somehow I didn't realize this at first, and as I was reading it I was thinking happily that I'd order
Housekeeping vs. The Dirt
as soon as I was done. I was dismayed when I realized that there'd be no more to read after this. And please don't ask me what I thought the word "complete" was doing in the title. I can be dim like that sometimes.
Within five pages of having started the book, I realized the following with much joy: Nick Hornby is one of us! He buys lots and lots of books! He makes lists of what he bought and of what he read each month! He comes up with excuses to justify his addiction! He's unpretentious and honest and genuinely enthusiastic about books! He believes in reading for enjoyment! He'd much rather write about books he enjoyed than about books that didn't work for him!
I think that after such an indecent amount of exclamation marks I barely need to say that I absolutely loved this book. Nick Hornby is not only unpretentious and enthusiastic, but he's also really, really funny. I love his sense of humour, and there were several passages in the book that made me laugh out loud.
Just the other day,
Michelle
said in a comment that she likes reading book blogs because she gets to read more than just book reviews – people also describe what the reading experience was like for them. This is pretty much what is done in
The Complete Polysyllabic Spree
. Another thing I loved was the fact that the book contains excerpts from some of the novels Nick Hornby writes about. Including
Persepolis
! Isn't it fortunate that my copy came in the mail the very day I finished this book?


Here are some of my favourite passages:

I suddenly had a little epiphany: all the books we own, read and unread, are the fullest expression of self we have at our disposal. (…) with each passing year, and with each whimsical purchase, our libraries become more and more able to articulate who we are, whether we read the books or not.

Luckacs's book is completely gripping, clear and informative and it corroborates a theory I've been developing recently: the less there is to say about something, the more opaque the writing tends to be. In other words, you hardly ever come across an unreadable book on World War II, but pick up a book on, I don't know, the films of Russ Meyer, and you'll be rereading the same impossible sentence about poststructuralism auteurism three hundred times. People have to overcompensate, you see.

If reading books is to survive as a leisure activity – and there are statistics which show that this is by no means assured – then we have to promote the joys of reading, rather than the (dubious) benefits. I would never attempt to dissuade someone from reading a book. But please, if you're reading a book that's killing you put it down and read something else, just like you would reach for the remote if you weren't enjoying a TV programme.

And please, please stop patronizing those who are reading a book – The Da Vinci Code maybe – because they are enjoying it. For a start, none of us know what kind of an effort this represents for the individual reader. It could be his or her first full-length adult novel; it might be the book that finally reveals the purpose and joy of reading to someone who has hitherto been mystified by the attraction books exert on others. And anyway, reading for enjoyment is what we should all be doing.
And now, here's a list of the books that were added to my wishlist because of Nick Hornby. There were also plenty of others that weren't added simply because they were already there. He's as bad as you people, really. If he weren't so awesome, I'd be forced to hate him.

George and Sam

by Charlotte Moore

How to Breathe Underwater by

Julie Orringer

Meat is Murder

by Joe Pernice

How Mumbo-Jumbo Conquered the World

by Francis Wheen

We're in Trouble

by Chris Coake

Chronicles, Vol. 1

by Bob Dylan (I love Bob Dylan, so I really don't know why this wasn't there already)

Blood Done Sing My Name

by Timothy B. Tyson

What Good Are the Arts?

by John Carey

All the King's Men

by Robert Penn Warren (not the extended edition)

Death and the Penguin

by Andrey Kurkov

Housekeeping

by Marilynne Robinson

Then We Came to the End

by Joshua Ferris

The Boy Who Fell Out of the Sky

by Ken Dornstein

Freakonomics

by Steven D. Levitt and Stephen J. Dubner (Tricia helped)



Other blog reviews:


In Spring It is The Dawn (part 2)
Dog Ear Diary (part 2)
Rhinoa's Ramblings (part 1)
Rhinoa's Ramblings (part 2)
The Hidden Side of a Leaf (part 1)
Tripping Towards Lucidity (part 1)
A Striped Armchair (part 1)
Stuff as Dreams are Made On (part 1)
Savvy Verse & Wit
Nothing of Importance
Life in the Thumb (part 1)
Stainless Steel Droppings (part 1)
Cynical Optimism (part 1)

If you've also reviewed this one, please let me know and I'll add you to this list.