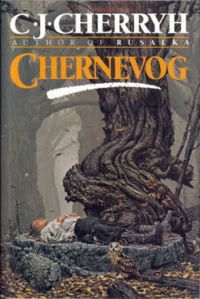 Chernevog
is the follow-up to
Rusalka
. It takes place three years after the events of
Rusalka
. The characters are the same, the setting in the same, and the story is such a direct continuation that it makes you look back on the events of the first book in a different way. The fact that this is a direct sequel means I can't give you a plot summary without spoiling
Rusalka
for anyone interested in reading it. Even picking up this book to read what it said on the back cover before finishing
Rusalka
was a mistake, as I learned the hard way (not too smart of me, I know). So I apologize in advance for the vagueness of this post.
Since I can't talk about the plot, I will instead talk about things that are true of both books. For example, I never got around to explaining how magic works in these books. Here's how it is: We're all constantly wishing for things in life. But in this world, wizards have to be careful what they wish for, because it may very well come true. At first glimpse this sounds great, but what happens if you wish someone you care about harm in a moment of anger? What happens when wishing for rain in a town means a draught some miles away? Wishes have consequences, and they come at a price. There's also the fact that what we wish isn't always necessarily what we need. Wizards are very well-aware of this. But they are also aware that to want is an essential part of human nature. This is why most wizards in Cherryh's book choose to give up their hearts and put them in familiars like crows or owls or bears.
But two of the main characters of this book are wizards who decide to keep their hearts, and the fact that they have to constantly watch themselves and see what they want is part of what drives the plot. They keep their hearts because they want to be able to give their love to those around them, but they know that they have to wish responsibly, and to avoid wishing for too much.
Chernevog
(like
Rusalka
in some ways) is also a story about trying to go on with your life when you've been hurt almost beyond endurance. It's about learning to trust again, and allowing yourself to feel. I think that what I like the most about Cherryh is how psychologically complex (and thus how believable) her characters are. Then there's something related to this - the fact that she doesn't let you pick sides. Nothing in these stories is black and white, and even you, the reader, have to decide who deserves your trust and who doesn't. Which isn't easy.

Of all the weird responses I get when I tell people I like fantasy (which have included "wow, I thought you were smart"), the kind that baffles me the most is the "oh, I have no patience for fantasy at all…I like stories about real people with real emotions dealing with real life" kind. The situations that Cherryh's characters go through, the ones that make them weight their wants and needs, struggle to communicate more effectively and decide whether or not to trust one another, are not, of course, realistic. But their emotional responses to those situations are – how could they not be? How could an author ever write about emotions that do not belong to the human emotional spectre? Don't get me wrong, I don't think there are limits to the human imagination. But when it comes to feelings, doesn't imagining one mean that it can be felt, and therefore that it is real? It doesn't take much of an effort to imagine the same psychological struggles Cherryh's characters go through taking place in the real world. In fact, I think it takes a much bigger and more stubborn effort to be unable to imagine it.

But back to the book. Like

Rusalka

,

Chernevog

is complex and deliciously atmospheric. But I have to say that I enjoyed

Rusalka

more. I'm not saying that this is an inferior book. It's just that the fact that it's a direct continuation means that it's more of the same. I should have taken a break before reading it. Remember what I said about R

usalka

being intense? Well, the same is true in this case, but the problem was that the intensity began to get to me after a while. This is a compliment to Cherryh, really – it means that she can draw me into her character's tensions so effectively that after a while they begin to weight on me. I look forward to

Yvgenie

, but I'm going to have to take a bit of a break first.