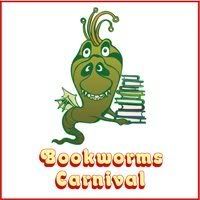 First of all, I wanted to remind you that you have
until the 13th of June
to submit your posts
for the 12th edition of the Bookworms Carnival - that's two weeks from today. The theme is fairy tales, and your submissions should be e-mailed to untuneric at gmail dot com. You can find more information about the Bookworms Carnival in general
here
, and about this edition in particular
here
.
I know that some bloggers out there have perfect posts for the carnival, so I eagerly await their submissions. I don't want anyone to feel that they have to submit a post, of course, but I'd be very happy if you did. Very happy indeed.
And since there's nothing like a giveaway to add to the general fun and motivation,
I'm going to draw a name among those who submit posts to the Carnival
. But there's a twist: the winner will pick a book among those that are reviewed or mentioned in the Carnival posts. The idea is to both celebrate fairy tales in yet another way by giving away a book that deals with them and to encourage you to pay extra attention to all the Carnival posts to find out which book appeals to you the most.
But there's more:
even if you don't submit a post, you can still win one of the books that are reviewed in the Carnival
. How? After the Carnival is posted, you'll have a week to read all the posts, leave a comment in each, and then come back to let me know you did so and which book you'd like to win. I will draw a name among those who do so. If you submit a post you can still do it, and in that case you'll be entered for both draws.
And yes, I am totally stealing this idea from
Carl
, but I always thought it was a great one, and it's thanks to it that I met so many fellow book bloggers during the Once Upon a Time and RIP Challenges. So what do you think? Hopefully this way people will get to interact more, Carnival submitters will get more comments, and two lucky people will win books. Everybody wins, right?
Edit to add:
Dewey
, the mastermind behind the Bookworms Carnival, is matching my offer. Therefore, there will be two names drawn among those who comment on every Carnival post. The second person will get a book of their choice among those reviewed in the Carnival from Dewey.
---
I'm joining two more challenges. Don't give me that look, though. These two challenges won't actually add to my much-too-long list for this year. The first is Trish's Classics Challenge, and I'm cheating, aka overlapping with other challenges, plus throwing in a few books I was planning on reading this year anyway. Here are my choices:

Pride and Prejudice

by Jane Austen


Jane Eyre

by Charlotte Brontë


Lady Chatterley's Lover

by D.H. Lawrence


The Jungle Book

by Rudyard Kipling


Treasure Island

by Robert Louis Stevenson
I'm still not sure if I'm going to do the bonus possible-future-classic or not, but if I do manage to fit it in, it will probably be

The Handmaid's Tale

by Margaret Atwood. I've been meaning to read that one for ages.

The second is Jan's Well-Rounded Challenge, a challenge for challenge addicts. Here's how it works: Beginning July 1, 2008, join me in this eclectic reading game. Read a minimum of 6 (six) books. Read 1 book from 6 different challenges that you've signed up for.

I will read: