Chris was saying
just the other day that we haven't seen as many Book Porn posts lately. The reason for that on my end is the fact that I have been more or less behaving in the past few months. But yesterday was a bit of an exception. Behold, my four new books: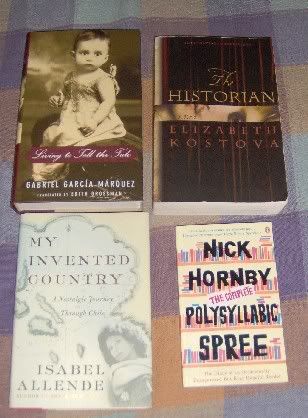 The Historian
found its way to me via BookMooch, and I'm going to save it for the third RIP challenge later this year.
The Polysyllabic Spree
is for the Non-Fiction Five challenge and I'm really excited about reading it. And the other two were in the bargain bin at a local bookstore! They are both beautiful hardcovers and I could barely believe my eyes when I saw them. I got
My Invented Country
because of
Robin's review
, and
Living to Tell the Tale
, Gabriel Garcia Marquez's autobiography, is bound to be good. The fact that both of these are non-fiction books set in South American makes them extra appealing for me.

Now for your amusement, I will share a list of books that currently are (or soon will be) on their way to me. In my defence, I only actually bought the last three. Some I have the generosity of fellow book bloggers to thank for, and others were acquired via BookMooch:

Tigerheart

by Peter David

From Black Rooms

by Stephen Woodworth

When the Emperor Was Divine

by Julie Otsuka
A $15 Amazon giftcard that will be turned into

Endless Nights

by Neil Gaiman

Faerie Tale

by Raymond E. Feist

The Lost Years of Merlin

by T.A. Barron

I Am Morgan leFay

by Nancy Springer

The Ice Queen

by Alice Hoffman

To Be a Slave

by Julius Lester (it's Debi's fault)

Bullwhip Days: The Slaves Remember

by James Mellon

Transformations

by Anne Sexton (I blame Lisa)

The Complete Persepolis

by Marjane Satrapi

Black Orchid

by Neil Gaiman & Dave McKean
So much for behaving :P


---
For the second Weekly Geeks, Dewey is asking participants to adopt Darla D's policy of linking to other blog reviews at the end of her posts. This is a splendid idea. I always liked the fact that Darla did that. I think that what I'll do is ask people to leave me a link to their reviews in the comments, and then I'll edit my posts to include them. I edited my latest review (

paddy clarke ha ha ha

by Roddy Doyle) and added some links to other bloggers, but I think I'll only really start doing it for future posts - I'm not quite sure if I'd have the time to go back and edit lots of old posts. So from now on, if you see me posting about a book you have reviewed, please let me know and I'll link to your review.