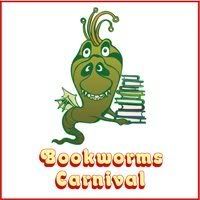 First of all, the basic info:

Deadline for submission:
June 13
Theme:
Fairy Tales
To submit a post, email:
untuneric at gmail dot com
(For more on what exactly a Bookworms Carnival is and how it works, click the button to be taken to the Carnival's main information page)
And now some more details:
Fairy Tales is pretty self-explanatory as far as themes go, I know. But there are a number of things that would fit. First of all, reviews. You could submit a review of:
A modern retelling of a classic fairy tale (like

The Goose Girl

by Shannon Hale,

Beauty

by Robin Mckinley,

Zel

by Donna Jo Napoli or

East

by Edith Pattou, just to name a few)
A book that, while not being a retelling of a particular fairy tale, either has elements of several fairy tales or a general fairy tale feel (like

The Book of Lost Things

by John Connoly,

Stardust

by Neil Gaiman,

The Princess Bride

by William Goldman, the

Fables

series by Bill Willingahm, etc.)
Fairy tale poetry (like Anne Sexton's

Transformations

, Roald Dahl's

Revolting Rhymes

, Neil Gaiman's "Locks" or "Instructions", etc.)

A collection/anthology of fairy tales retold (like the Datlow/Windling anthologies)
A collection/anthology of classic fairy tales (Perrault, The Brothers Grimm, H.C. Andersen, Madame d'Aulnoy)
A particular fairy tale, modern or classic
A non-fiction book about fairy tales
For more examples of books that would fit, please take a look at the
Fairy Tale Fiction Reading List at Endicott Studio
. They also have some non-fiction suggestions at the end. And there are also lots of examples to be found at the
SurLaLune Fairy Tales
website. Just pick any of the annotated fairy tales and then click Modern Interpretations (for example:
Hansel & Gretel
).

But it's not just reviews I'm looking for. You could write a post about childhood memories of reading fairy tales (or adulthood memories of reading them to your children, or simply of reading them yourself). You could write about why you like fairy tales (or why you don't). You could pick a favourite fairy tale and write about what it means to you. Or whatever else you can think of. Nothing would make me happier than an original approach to the theme. Remember: variety is good.

And let's not forget fairy tale illustrators. If someone were to submit a post about their favourite fairy tale illustrator, modern or classic, I would be seriously inclined to buy them dinner at a really nice place. Or send them chocolate. Not that I'm trying to bribe you.

Don't forget that the post doesn't have to be written specifically for the carnival. You can submit old posts. The carnival will most likely bring new readers to your blog, and for them the post will be new.

Well, I think that's it. When I receive your submission, I'll write back confirming that I got it, and once the Carnival is up I'll e-mail everyone letting them know. Please contact me if you have any questions. I'm really looking forward to reading all your submissions!



PS: Plus, you can win books!

Find out how here.