As most of you no doubt know,
Winnie-the-Pooh
is a collection of interrelated stories about a little boy, Christopher Robin, Pooh the bear, Piglet, Eyeore the donkey, Rabbit, Owl, Kanga and Roo, and their many adventures in the Hundred Acre Wood.
Somehow I didn't expect to love this book half as much as I did. I mean, I didn't think I'd dislike it – it's a children's classic and I love children's books – but I wasn't prepared to be so completely charmed. I could barely stop smiling the whole time I was reading this book.
The first thing to conquer me was Milne's humour. Then his warmth. Then the fact that the stories are just
so
good. Reading this book, I was reminded of what
Jean Pierre
said about Roald Dahl in a comment once: that his stories are silly, but in a way that doesn't insult the intelligence of children. Instead it tells you, "Let's have some fun together!"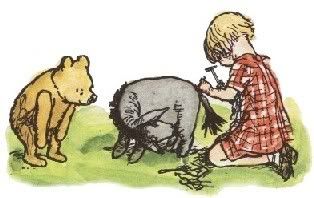 I was surprised with how respectfully, how tactfully Milne enters the world of a child. He tells stories that are silly and important at the same time. He achieves a very precious balance – he doesn't disturb the house of cards, so to speak. There's a story in which Christopher Robin organizes an expedition to the North Pole. All his friends follow him, but naturally they never leave the Hundred Acre Wood. I remember feeling like that so well – I remember summers at my grandfather's house when I would hassle all my cousins to Go On Adventures with me. "Adventures" meant invading the neighbour's backyard until the dog chased us out, but it felt big. It felt like an expedition. These stories respect the childhood feeling that everything is big and exciting and awe-inspiring. They are make-believe, but in a way that goes along with a child's worldview without ever, ever being patronizing. And I loved them for that.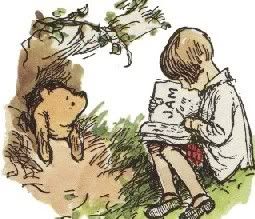 I had forgotten that Neil Gaiman had said that it was from Milne that he got The Capitals That I So Love. An example:
"Pooh rubbed his nose with his paw, and said that the Heffalump might be walking along, humming a little song, and looking up at the sky, wondering if it would rain, and so he wouldn't see the Very Deep Pit until he was half-way down, and then it would be too late."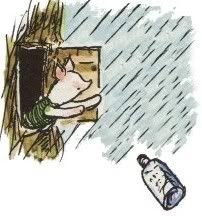 Plus, there was another dimension to the stories that made me love them even more. These are stories told by a father to a young son, stories about him and his toys and their adventures. They are part of an act of joint storytelling, and there is such tenderness, such warmth in the way this is done. The book shows this in a simple and subtle but very touching way. Just look at this little interlude at the end of chapter six:
"And I didn't give him anything?" asked Christopher Robin sadly.
"Of course you did," I said. "You gave him – don't you remember – a little – a little—"
"I gave him a box of paints to paint things with."
"That was it."
"Why didn't I give it to him in the morning?"
"You were so busy getting his party ready for him. You had a cake with icing on the top, and three candles, and his name in pink sugar, and—"
"Yes, I remember," said Christopher Robin.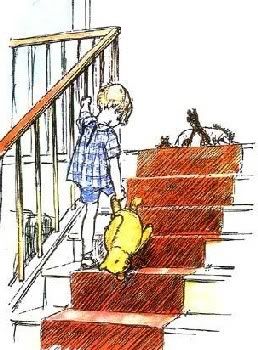 It goes without saying that E.H. Shepard's lovely illustrations do much to add to the book's charm. I'm very glad to have finally read this book.



Other Opinions:


Dog Ear Diary
Bold.Blue.Adventure
Lost in a Good Story


---
Melody tagged me for the 123 Meme. I've done it before, but the results are different every time, so it's always fun to do it again. The rules:



1. Pick up the nearest book.




2. Open to page 123.




3. Find the fifth sentence.




4. Post the next three sentences.




5. Tag five people, and acknowledge who tagged you.



The book nearest me is Philip Pullman's

Once Upon a Time in the Nort

h

(it arrived today—yay!). Unfortunately, this little gem is only 95 pages long, much to my sadness, so I'm going to have to reach further. On my nightstand I have the Wordsworth Classics edition of

The Completely Fairy Tales of the Brothers Grimm

. This will do. Page 123 is "Cinderella":

Then the girl took the dish to her step-mother, and was glad, and believed that now she would be allowed to go with them to the festival. But the step-mother said: "No, Cinderella, you have no clothes and you can not dance; you would only be laughed at."
There. This meme has gone around a few times, so I think I'll skip step five, but if anyone hasn't done it yet or would like to do it again, I'd love to see what you come up with.

Since we're on the topic of fairy tales: today I went to the library to get Eudora Welty's

The Optimist's Daughter

to read for the Pulitzer Project. They only had it in an edition of her complete novels, so I got that.

Then I noticed that the first novel in the volume was called

The Robber Bridegroom

, and that it was described as "

an exuberant fantasy set along the Natchez Trace

." I vaguely knew that "The Robber Bridegroom" was one of Grimm's fairy tales, but I didn't think it was one I was familiar with. With a little googling I discovered that it is a version of "Mr. Fox", a fairy tale I absolutely LOVE (and how come I didn't know that?) I also discoveredthat Welty's novel "i

s a Southern folk tale set in Mississippi"

and "

utilizes aspects of the Cupid and Psyche myth

". Oh my, I am SO sold! I won't be able to return the book to the library without reading this as well. Fortunately it is very short, more a novella than a novel. And I can use it as an extra for the OuAT challenge!

(And of course, Margaret Atwood's novel

The Robber Bride

retells the same story using a female protagonist…how exactly did I not know that either?)

It's funny how "whim reading" is a monthly slot I have no trouble whatsoever filling.

Speaking of which, while I was at the library I couldn't resist also bringing home Jack Zipes's

The Brothers Grimm: From Enchanted Forests to the Modern World

. I've wanted to read it for ages, and now seemed like a good time, since I'm also finally reading The Complete Grimms. The book is described as "part biography, part critical reassessment and part social history". Sounds good to me.

One last thing: my days as a monogamous reader seem to be over. Before, I was one of those people who very rarely had more than one book going at any given time. But then I decided to try and read more non-fiction, and I like to have a novel going alongside my non-fiction. And then I decided to have shorter things going at the same time as chunksters, otherwise I grow impatient. And then I noticed that I also grow a little impatient with collections of short stories/fairy tales/essays if I'm not reading a novel alongside them. As a result, these days I almost always have two or three books going at the same time, and I feel sort of naked when I'm only reading one. If you'd told me this a year ago, I wouldn't have believed it.