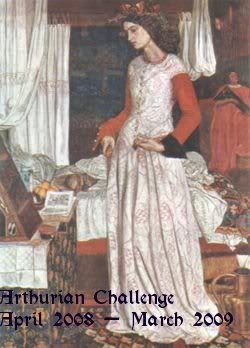 Becky
keeps coming up with challenges that are simply too good to resist. The goal of the
Arthurian Challenge
is to read at least 6 books about or inspired by Arthurian myth between now and March 2009. A year is a long enough deadline, so I figured this wouldn't get in the way of my other challenges. Plus, it will give me an excuse to return to the tradition of reading an Arthurian epic in the summer. I have such fond memories of summers spent reading
The Mists of Avalon
and
The Once and Future King
.
I was having trouble narrowing down my list, so I decided to just list some possibilities. I will read at least 6, and more if time allows. Here they are:
Arthur and the Lost Kingdom

by Alistair Moffat

A Connecticut Yankee in King Arthur's Court

by Mark Twain

The Dark Is Rising

by Susan Cooper

The Lost Years of Merlin

by T.A. Barron

The Merlin series

by Mary Stewart

The Guenevere Trilogy

by Rosalind Miles

I am Morgan Le Fay

by Nancy Springer

The Merlin Conspiracy

by Diana Wynne Jones
Sir Gawain and the Green Knight
The Mabinogion
There. This will be fun for sure.
Something else: It's been almost a week now since I announced the winners of my giveaway. One of them, the winner of
One For Sorrow
, had no blog and no e-mail address listed on their profile. I waited all this time to hear from them, but I think it's fair to draw another name at this point.
I used the same random number method, and the winner is:
Lightheaded
!
Congratulations! I still have your address from the Christmas Exchange, so I'll send the book your way soon.