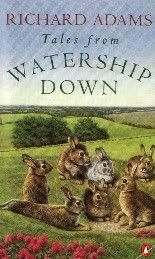 "Tell us a story, Dandelion!"
As I mentioned when I
posted about
Watership Down
, one of my favourite things about that book was how Richard Adams created such a rich mythology for the rabbit society he was writing about. Several tales about the Lapine trickster/folk hero El-ahrairah and his faithful companion Rabscuttle are told throughout the novel, and they always add to the narrative.
Tales from Watership Down
is divided into three sections: the first has further tales about El-ahrairah and Rabscuttle. The second tells of the two heroes' adventures on the way back from their meeting with the Black Rabbit of Inlé (an episode retold in
Watership Down
). Finally, the third section has stories about Hazel and his warren that take place in the winter, spring and summer after the events of
Watership Down
.
Unlike what happens in most collections of short stories, the stories in Tales from Watership Down are connected, and its overall structure is almost like that of a novel. This is especially true of parts two and three, when the episodes retold follow each other chronologically, but even in part one the Lapine myths are contextualized. We are shown a little scene in Hazel's warren, and then one of the rabbits – often Dandelion, but not always – begins to tell a story.
It was wonderful to reencounter characters such as Hazel, Bigwig, Keehar, Silver, Holly or Fiver. I enjoyed this book almost as much as
Watership Down
. Richard Adams is a wonderful writer, and he tells these tales with amazing solemnity and warmth.
One of my favourite stories was "The Rabbit's Ghost Story", which, as the title indicates, is the story of a rabbit that has seen a ghost. I didn't know (though in retrospect I should have guessed, because it's the kind of thing we humans so often do) that some farmers would deliberately infect whole warrens with myxomatosis to wipe them out:
[The disease] reached the UK in 1953, apparently without human action. Some in the UK deliberately spread the disease, placing sick rabbits in burrows, while many others deplored the cruelty and suffering. The government refused to legislate to make deliberate spread of the disease illegal. By 1955, about 95% of rabbits in the UK were dead. Rabbits suffering in the last stages of the disease, commonly called "mixy" or "myxie" rabbits, are still a common sight in the UK in 2007. Unfortunately, the disease affects more than the rabbits: the Spanish lynx among others is now almost extinct because the declining rabbit population, encompassing 90% of its diet, has caused mass starvation. It is not uncommon for shooters to specifically target infected rabbits, viewing the act as being merciful.
(From Wikipedia)
The theme of men's abuse of nature, which was also present in
Watership Down
, is thus repeated here.

Another favourite of mine was "The Story of the Terrible Hay Making". I call it a favourite, but it was a story that made me cry. It was very, very brutal. It opens with a quote by Horace Annesley Vachell which sets the tone of the story perfectly: "In nature there are no rewards and punishments: there are consequences." The fact that Richard Adams doesn't shy away from showing nature's brutality is one of the reasons why I love his books so much. It is also one of the reasons why his characters are so believable as wild animals, and yet tell us a lot about ourselves at the same time.

If you're a fan of

Watership Down

, it's safe to say that you will also love this book. Revisiting that world and those characters was wonderful, and I already miss them again.

Other Opinions:
DogEar Diary
Fifty Books Project
Steve's Book Journal


---
To celebrate her 100th post, Kim is giving away four books:

The House of the Spirits

by Isabel Allende,

My Sister's Keeper

by Jodi Picoult,

Space

by James Michener, and

The Memory Keeper's Daughter

by Kim Edwards. For her international readers, she has a $15 Amazon gift card instead. Leave her a comment by next Saturday, the 26th, to be entered.

Andi is also giving away a book, and an important one:

The Down-to-Earth Guide to Global Warming.

Leave her a comment here by Friday to be entered.

Finally, Jeane is giving away 2 BookMooch points. To be entered, all you have to do is tell her what the most obscure book in your inventory is.

Edit to add: Ana at Cosy World is celebrating World Book Day by giving one lucky winner a book from their wishlist! Leave her a comment by tomorrow to be entered.