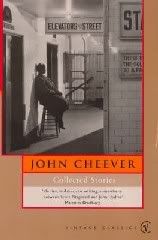 "These stories seem at times to be stories of a long-lost world when the city of New York was still filled with a river light, when you heard Benny Goodman quartets from a radio in the corner of the stationery store, and when almost everybody wore a hat. Here is the last of that generation of chain smokers who woke the world coughing, who used to get stoned at cocktail parties and perform obsolete dance steps like "the Cleveland Chicken," sail for Europe on ships, who were truly nostalgic for love and happiness, and whose gods were as ancient as yours and mine, whoever you are."


From the Preface

This almost 900 pages long tome contains over sixty stories, originally published between 1947 and 1978. Most of the stories are about upper middle-class suburban families, and are told from a male perspective. Don't be fooled, though. There is much more here than stories about rich people drinking martinis. These are subtle stories, stories that show us the hidden corners of our lives. When the narrator of "The Worm in the Apple" asks,
What was at the bottom of this appearance of happiness?
he is asking the question with which a great deal of these stories deal.
Cheever's stories are stories that make us ask ourselves how happy we are. They are stories that make us confront our demons, our hushed fears, our secret shames. They are stories (like "The Cure" and "Seaside Houses") full of quiet despair. They are stories that catch us unaware, stories that change us.
When reading Cheever, sometimes a word might strike you as odd, and it is only later that you realize that it hints at something whose whole significance is later revealed. The pace, the cadence, the phrasing – in his stories, all is deliberate and precise. His command of language is masterful. His irony is wonderful, and he is exquisite at making humour and tragedy go hand in hand. Often he will deliberately misdirect your attention at the beginning, so that the story's real aim may sneak at you and catch you fully disarmed. Reading this collection made me gain a new appreciation for short stories. Cheever is one of the masters of the form.
John Cheever is supposedly a realistic writer, and yet often in his stories bizarre things take place – bizarre things that remain unexplained. "The Lowboy" begins as a story about sibling rivalry and turns into a ghost story; in "The Enormous Radio", a woman gets a radio that can be used to eavesdrop on hers neighbour's conversations; "The Music Teacher" gives you a glimpse of the mysterious, the horrific, through what may or may not be the use of black magic by a husband who wishes to subdue his wife. And even when nothing that could be called supernatural is happening, Cheever's stories are often unusual because they show people at their most bizarre.

In some stories, like "The Country Husband" and "The Season of Divorce", there is no big transformation at the end. Things resume normality, and yet you get a glimpse of the turmoil hiding just under the surface. The interesting thing is that rather than being unsatisfying, this only makes the stories more powerful, more unsettling.

As in all collections – especially ones this long – some stories are better than others. I wasn't as fond of the last third of the book as I was of the first two. At some point Cheever developed a slight obsession with Italy, and his Italian stories didn't do much for me (not because of the setting, of course, but simply because I didn't find them as good). Then again, some of the best stories, like "The Swimmer" or "The Geometry of Love", are to be found in the last third of the book.

I know that the sheer size of this book is intimidating. But if you find yourself at a library with some time in your hands, pick it up, sit down, and read a story. It probably won't take you too long – the stories average ten pages. Then put it back on the shelf and do the same another day. Perhaps you will, like me, find yourself irresistibly drawn to Cheever's world – a world in which there's more to things and people than meets the eye.

Click here to read a short essay by Michael Chabon about the story "The Swimmer".
Other Opinions:
Rebecca Reads
Rose City Reader