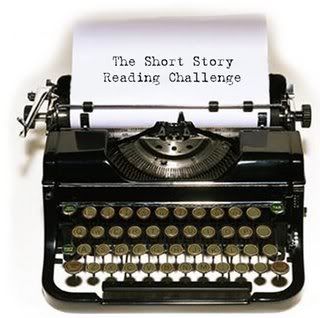 Today is a lazy sort of Sunday, and I decided to catch up on my short story reading. I decided to go with two authors I'm already familiar with –
Christopher Barzak
and
Ekaterina Sedia
– and one who is new to me –
Kevin Brockmeier
.
"Born on the Edge of an Adjective" by Christopher Barzak
was my favourite story of the lot. I just love his writing. This story shows the same sort of sensibility and delicacy, the same talent to portray longing and love and loss with painful accuracy that made
One for Sorrow
so remarkable. It's a beautiful, sad and strange story that will give you a pretty good idea of whether or not you like his writing. I hope you do.
I also really enjoyed
"The Taste of Wheat" by Ekaterina Sedia
. In fact, I think I liked her writing in this story even more than in
The Secret History of Moscow
. "The Taste of Wheat" is also a strange story – strange in the best possible way. It's about transformations and one girl's search for her dead grandfather, but it's also about much more than that. Here's a favourite passage of mine:
She thought of the tales the old women told around the fire, about the mice who decided to become human, and crawled into the pregnant women's wombs, to gnaw at the growing child and to displace it; they grew within the women, shed their tails and claws, and were born as human children. One could only recognize them by the restlessly chewing teeth and the dark liquid eyes. Surely there must be a way for a woman to become a mouse.
"The Green Children" by Kevin Brockmeier
is a beautiful and melancholy tale about the discovery of two green children and the effects it has on the inhabitants of a town, and especially on the narrator, who retells the events with quiet nostalgia. It's a wonderful story, and I can definitely see why
Carl
and
Literary Feline
have praised Kevin Brockmeier's work. I really want to read more of it.
---
Today also felt like a good day to catch up on my web wanderings, and I thought I'd share a few things with you.

First of all, a giveaway: Melody is giving away

Cold Mountain

by Charles Frazier,

Little Face

by Sophie Hannah and

From Black Rooms

by Stephanie Woodworth. To be entered, leave her a comment before the 1st of May.

Secondly, I adored Ursula Le Guin's review of the new Salman Rushie book,

The Enchantress of Florence

. The book itself sounds great, but I particular loved reading what she had to say about how science and a sense of wonder don't have to be contradictory.

Neil Gaiman posted a link to an essay by Michael Chabon about literature and entertainment, and I swear, I keep finding new reasons to love Michael Chabon. Here's a sample:

Yet entertainment -- as I define it, pleasure and all -- remains the only sure means we have of bridging, or at least of feeling as if we have bridged, the gulf of consciousness that separates each of us from everybody else. The best response to those who would cheapen and exploit it is not to disparage or repudiate but to reclaim entertainment as a job fit for artists and for audiences, a two-way exchange of attention, experience and the universal hunger for connection.
Oh, how I love him. The essay is an excerpt from his new non-fiction book,

Maps and Legends: Reading and Writing Along the Borderlands

. I can't wait to get my hands on it.


---
Finally, the first Weekly Geeks is here, and Dewey picked a great theme to start with: Discover New Blogs Week! It's like a mini-version of the Blogroll Game. The Blogroll Game was how I met Dewey herself and Tanabata and some other bloggers that are now favourites of mine, and plus I won some books! What's there not to love? Anyway, here are five new blogs that I visited today:

Somer at Somereads is a fellow Neil Gaiman fan! This couldn't have started better. Plus, she's a librarian, and everyone knows that librarians are cool. There's more: She's currently listening to the

The Amber Spyglass

audiobook, and she's reading

The Princess Academy

– a book I love and a book I really want to read!

Teddy Rose at So Many Precious Books, So Little Time has a gorgeous header. Very springy. Plus, a look at her sidebar told me that she's a fellow animal lover, and that alone made me like her right away!

Aaron at That's The Book! has a quote I love on his header:

"Next to acquiring good friends, the best acquisition is that of good books."

I was thrilled to discover that Aaron recently posted a great review of

Mr. Punch

, a comic by Neil Gaiman and Dave Mckean that I love.

Samantha's blog has such a lovely title: Bookworms and tea lovers. I'm sure that, like me, many of you are both. Samantha has joined a very ambitious but exciting challenge: to read at least one book for each country in the world. There's no deadline, but the idea still feels a bit daunting to me. I'd love to do it someday, though, and I really admire those who had the courage to join!

Finally, Michelle's blog, In the Louvre, is not 100% new to me because I discovered it earlier this month, when she hosted the April Bookworms Carnival. Still, I decided to take this chance to explore it a bit better. First of all, I really love the look of her blog. So pretty and unique. Secondly, her latest post makes it clear that she is a very talented writer! After some more exploring I discovered that we share a love for Murakami, Kurt Vonnegut and

The Book of Lost Things

.