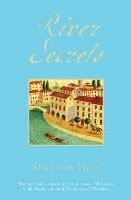 River Secrets
takes off more or less where
Enna Burning
left us. It is the aftermath of the war with Tira. To assure goodwill between the two kingdoms, a Tiran ambassador is coming to Bayern, and Bayern is sending its own ambassador to Tira. The Bayern ambassador is the king's cousin, Lady Megina, and those who are to accompany her include familiar characters such as Talone, Finn, Enna and Razo.
But even before the journey begins, there is trouble. The King receives word that there is a group of discontent Tirans who are pressing for a return to war, and that their Assembly agreed to vote the matter in the Fall. The mission of the Bayern ambassador has become more dangerous, but also more important than ever. As the Queen says,
"It's easy to believe complete strangers are your enemies. If they knew us…"
Things are not to be easy, of course. Shortly after the start of the journey, Razo and Talone find a burned body. It seems that someone is trying to incriminate the Bayern – to force a return to war by making people believe that there is a fire-witch on the loose.
The story is told from Razo's point of view, and his outlook gives a lighter – even humorous – tone to what would otherwise be quite a dark book. But this isn't to say that there isn't any darkness. There is mystery and suspense, there are conspiracies to be uncovered, there is hostility in the air. And some of the things Razo witnesses suggest that Enna has not yet fully recovered from what happened to her during the war – that perhaps she never will. But at the same time, there is a degree of innocence to Razo that changes the mood of the book. Even when he's worried – and throughout the story he does a lot of worrying – he maintains his optimistic, pragmatic way of dealing with things. And that is part of his charm.
Like I said, there's some mystery and suspense in the story, but, as in
The Goose Girl
, the answers to the mysteries are not difficult to guess. I could easily predict who was behind the conspiracy, what secrets certain characters were hiding, etc. But again, like in
The Goose Girl
, this doesn't detract from the story in the least. More than about conspiracies,
River Secrets
is about bridge building – it's about two different peoples getting to know each other and realizing that they aren't that different after all. It's about how dialogue can overcome suspicion and fear. And it's just as much about all of this as it is about Razo growing up, realizing what his strengths and shortcomings are, accepting who he is, and falling in love.

There's something I particularly love about Shannon Hale's writing: I love how in her stories, relationship between characters are never set. Often in fiction, we are shown the obstacles two lovers have to overcome to get together, and once they do, that's it. The story ends there. But as we well know, that's when the story actually begins. Relationships are never set. They require work and dedication. And in Shannon Hale's stories, we are allowed to see that.

While reading

River Secrets

I was once again somewhat reminded of Ursula Le Guin, and again I mean that as a big compliment. Shannon Hale is very, very good. I can't wait for the fourth book in the Bayern series,

Forest Born

.

PS: I was taking a look around Shannon Hale's website, and I realized that she has sections with extras for each of her books: extra chapters, deleted scenes, etc. How cool is that? If you're a fan of hers, I urge you to go and take a look – there is lots to be discovered. However, those who have yet to read the books should be careful, as the extras include a good amount of spoilers.



Reviewed at:


Rhinoa's Ramblings
Book Nut