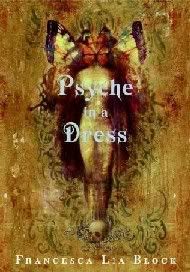 Francesca Lia Block's version of this well-known Greek myth manages to be completely innovative and faithful to the original at the same time. In
Psyche in a Dress,
Psyche is the daughter of a movie director who exploits her beauty in his work. His girlfriend, Aphrodite, is jealous of Psyche, and it's at her request that her son Eros first visits Psyche in the dark.
After losing Eros, Psyche begins a journey through a world of loneliness, addiction and abuse. She becomes Narcissus' Ecco, Orpheus' Eurydice, Hades' Persephone, and later Demeter. Her search for her lost love is also a lifelong search for her identity, for strength.
Just "like East of the Sun, West of the Moon" is my favourite fairy tale, "Eros and Psyche" is my favourite Greek myth. There is just something about the story of two lovers becoming so in the dark that really captures me. So I was thrilled to discover a novel-length version of this myth. I was surprised that Francesca Lia Block also incorporated other Greek myths into this story, but the way she does it works really, really well. My surprise quickly turned into joy. I also admire the way in which she gave the story a very modern setting while also retaining a classic feel.
When I ordered this book, I had no idea that it was a novel in free verse. It's a good thing that I didn't, really, or else I might have become suspicious, and that would have been letting my preconceptions get the better of me. The free verse form fits the story, and it doesn't keep it from flowing with ease. The only but is the fact that this means that the whole book can be read in a little over an hour. I wanted it to have lasted longer.
Psyche in a Dress
is a beautiful version of the myth – a sensual, painful, delicate tale that takes you through darkness but ends in a hopeful note. I leave you with a passage:
No, you took me home again
You bit me gently, not drawing blood
You fed me pomegranate seeds
I sucked the clear red coating off the sharp white pith
The taste was sweet at first
and then dry as dirt, as bone

'I love you so much I don't care if I die,' I told you
So what if you didn't say it back?
Your hair was always cold against my burning skin, cold
and smelled of smoke
Your skin was always cool and sleek
Hades, my love

Other Blog Reviews:
...epiphany...
Once Upon a Bookshelf
The Written World