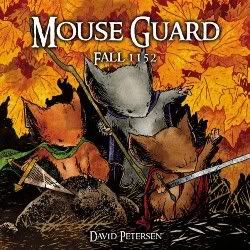 This comic book series, of which
Fall 1152
is the first collected volume, is about a society of sentient mice living in a medieval-like era. This is a world full of dangers, and vulnerable creatures such as mice must constantly remain alert. In this first volume, we are introduced to Liem, Kenzie and Saxon, three members of the Mouse Guard. The Mouse Guard is responsible for the peace and safety of the kingdom, and, as it turns out, this role is now more important than ever. When investigating the disappearance of a grain merchant, the three nice discover signs of the existence of a traitor, and end up uncovering a conspiracy that could lead to civil war. Along the way, the three mice discover the truth behind a legend, and find help in unexpected places.
The story told in this collection is brief, but full of adventure and suspense all the same. It's a fine introduction to a very well-developed, rich and complex world. I liked how, at the beginning of each chapter, a little bit of mouse literature or lore was quoted. I also liked that a lot of background stories were hinted at, adding to the depth of the world David Petersen created. Plus, there was a section at the end called "Maps, Guides and Assorted Extras" full of details that helped me understand the kind of society these characters live in.
The story told in Mouse Guard is a good one, but what really conquered me was the art. It's absolutely stunning, and it resembles nothing I've seen before. It made me want to dive into this world and lose myself in it. Actually, I shouldn't be separating the storytelling and the art, because they are completely entangled. There are several long sequences of panels without a single word, and they tell the story gracefully and effectively. Comics work, after all, very differently from illustrated novels.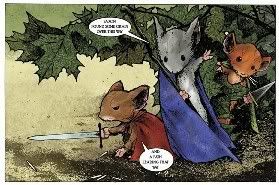 Don't be fooled by the cuteness of the members of the Mouse Guard. Cute they may be, but they are fierce warriors all the same. And the general tone of the story is ominous and dark. The world these characters inhabit is harsh and unfriendly. The Mouse Guard has not only to defend their fellow mice from natural predators, but also to deal with the more unsettling danger of conspiracies and betrayal.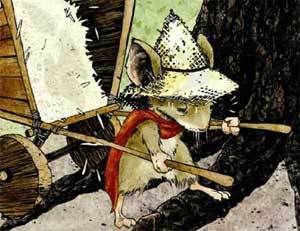 As often happen with the first volume of a series,

Mouse Guard: Fall 1152

feels very much like an introduction. There are things that hint at the unique personalities of each character, but there's much room left for further character and plot development. I anxiously await the release of

Mouse Guard: Winter 1152.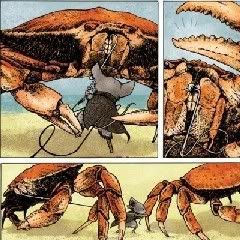 More of David Petersen's gorgeous artwork can be seen at the official Mouse Guard website.



Reviewed at:


Bart's Bookshelf
Books & Other Thoughts
Stainless Steel Droppings
Stuff as Dreams are Made On
Beth Fish Reads
In Spring it is the Dawn
Libri Touches