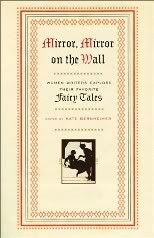 Mirror, Mirror on the Wall
is a collection of essays about fairy tales by women writers such as Ursula Le Guin, Terri Windling, A.S. Byatt, Margaret Atwood, Midori Snyder, Julia Alvarez, Joyce Carol Oates and many, many more. These writers approach their favourite fairy tales from many different angles. The essays are very diverse – some are traditional literary criticism, others almost read like short stories. All are very personal in their own way, and I found most of them immensely satisfying. My favourites made me gain a new appreciation for both the writer and the fairy tales being discussed. Many of the writers were new to me, but I'll definitely be reading more of their work in the future.
Let me tell you about some of my favourites in more detail:
In "An Autobiography of Scherezade", Julia Alvarez writes about growing up under a dictatorship in the Dominican Republic and hiding under the bed to read
The Thousand and One Nights
. She also writes about her long struggle to become a writer after moving to the United States.
In "It is You the Fable is About", Rosellen Brown discusses the impression that Hans Christian Andersen's fairy tales created in her as a child. Reading this essay brought back so many childhood memories of my own. She says that back then she didn't register the fact that these tales often end in a hopeful note – it was the horror that stayed with her. This was very much my experience with stories like "The Little Mermaid" or "The Little Match Girl".
Patricia Foster's essay is called "Little Red Cap" and it's one of the ones that read like a short story. She writers about "Little Red Riding Hood" and her relationship with her body throughout her life, and does so in a way that is touching, funny and very engaging.
In "Trust", Fern Kuppler relates the tale "Hansel and Gretel" to her experience as a stepmother, and also to taking care of her father when he was dying of cancer. The result, as you may imagine, is a very moving and insightful essay.
In "Transformations", Terri Windling writers about the journey the heroines of fairy tales such as "Donkeyskin" have to embark on to find themselves and rebuild their lives, and relates it with her own experience of leaving an abusive stepfather behind at age fifteen and building a new life for herself.

My very favourite essay was Linda Gray Sexton's "Bones and Black Pudding". This is a beautiful and very touching essay about the fairy tale "The Juniper Tree", her complex relationship with her mother, the poet Anne Sexton, and her own life and experience as a mother. It's a superbly written piece that made me want to read everything she's written.

There are many more essay that I'd love to tell you about – namely the ones by Margaret Atwood, Ursula Le Guin and Midori Snyder – but then I'd be here all evening. Hopefully what I did say was enough to make you curious. This is an essential book for any lover of fairy tales. It's also highly recommended for those interested in the workings of the imagination and the creative process.

Kate Bernheimer also edited

Brothers and Beasts

, an anthology in which male writers such as Neil Gaiman, Gregory Maguire, and Christopher Barzak, among many others, discuss their favourite fairy tales and their influence in their work. I'll be getting myself a copy very very soon.



Other Blog Reviews:


A Garden Carried in the Pocket
Educating Petunia