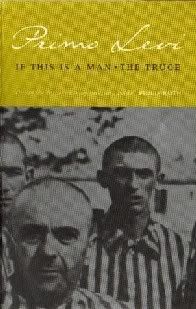 You who live safe
In your warm houses,
You who find, returning in the evening,
Hot food and friendly faces:
Consider if this is a man
Who works in the mud
Who does not know peace
Who fights for a scrap of bread
Who dies because of a yes or a no.
Consider if this is a woman,
Without hair and without name
With no more strength to remember,
Her eyes empty and her womb cold
Like a frog in winter.
Meditate that this came about:
I commend these words to you.
Carve them in your hearts
At home, in the street,
Going to bed, rising;
Repeat them to your children,
Or may your house fall apart,
May illness impede you,
May your children turn their faces from you.
If This is a Man
, published in the United States under the title
Survival in Auschwitz
, is Primo Levi's account of his experiences during WW2. I'm not quite sure how to classify this book. It's not a memoir in the conventional sense – Levi himself referred to it as a semi-autobiographical work, and said he changed some details for the sake of fluidity. For example, if merging two real people into a single character made telling the story easier, he would do so. However, in the preface he also says that everything he recounts in the book is real, so I think that to call it fiction because of those changes would be disrespectful.
Primo Levi was captured by the Fascist Militia in 1943 and was taken to an internment camp. In February 1944, he was deported to Auschwitz, where he stayed for eleven months. Having read Elie Wiesel's
Night
recently, I couldn't help but compare the two. Despite the superficial similarities, they are very different books.
Night
is very sparse, very matter-of-factly. The horrors of Auschwitz are described, and nothing needs to be added. This approach is undoubtedly a part of the book's power.
If This is a Man
, however, is a very contemplative book. Levi has a lot to add to what he's describing. His constant observations made me feel closer to him, and, as a result, this book was even more painful to read.
I liked him. I liked him a lot. And there he was, this intelligent and insightful and reflective person being put through all that. Being robbed of his humanity, being treated like a germ. This book was hard for me to read, more so than my other picks for the Themed Reading Challenge. Sometimes I get the feeling that the more I read about the Holocaust, the less I understand it. But anyway.
Levi combines chilling descriptions with observations about what it means to be human, what people will do to survive under extreme circumstances, the importance of food, of warmth, of things we take for granted. Food and warmth are things I barely ever thing about, and reading this book made me realize what a luxury that is.

This week I've been reading George Orwell's

The Road to Wigan Pier

for a course (an amazing book, by the way. I pondered posting about it – normally I refrain from posting about books I read for my classes because I want to save the impulse to write about them for essays and such, but in this case I wanted to tell everyone how good it was. I guess this very long comment in parenthesis is a sort of compromise) which is about the depression in the 30's, and in it he writes about how sometimes unemployed and underfed people would spend the little money they had in a movie ticket instead of buying food. This may seem irrational if you're a well-off person in a warm house, but these people lived in lodging houses where they couldn't stay in the daytime, so the movies were simply a way to stay out of the cold in a winter afternoon. I guess judging them is easy when you have no idea what it's like to have nowhere to go when it's freezing outside.

But back to Levi. He writes about what it means to be robbed of your name and to be given a number tattooed in your arm instead. He describes absurd situations – for example, because he had majored in chemistry, he was picked towork in a lab that would supposedly produce synthetic rubber. This was a blessing, because it meant the end of hard labour in the freezing cold. But before being selected, he was put through a chemistry exam. He was taken to an office where a member of the SS asked him questions about chemistry. The absurd of it was that for a Nazi officer, as a Jew he wasn't even human. He was part of a plague that had to be eliminated. And yet, because it was convenient, they were willing to temporarily acknowledge that he was intellectually capable enough to be a specialist in chemistry. How can a person harbour this kind of contradiction? How would they explain it to themselves? What Levi says is that for the Nazis he was something that had to be destroyed, yes – but also something to be used until everything had been drained out of him.

Primo Levi died in 1987. Although there is some controversy on the subject, everything indicates that he committed suicide.


---
This was my last official pick for the Themed Reading Challenge. I'm still hoping to read

The Boy Who Loved Anne Frank

as an extra, though, so I'll leave my wrap-up post for later.