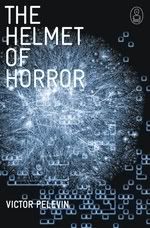 The Helmet of Horror
starts in a similar fashion to the movie
Cube
. A group of people wake up one day and discover that they have been placed in a labyrinth. They have no idea why they were taken there, or by whom. They are trapped in identical cells, and can only communicate with one another through an Internet chat room. Later on, the doors of their cells are opened, and they explore the section of the labyrinth in which they are, but the philosophical dialogue they have in the chat room remains the only way the story is told.
Sounds like an interesting premise, doesn't it? If only.
Well, it had to happen eventually. After loving all the books in the Canongate Myth Series, I finally came across one that I disliked. And disliked rather strongly at that.
I have absolutely nothing against novels that incorporate philosophical concepts, or that try in some way or another to illustrate a point. But when the sole purpose of a book is to make a point, then perhaps it would have been a better idea for the author to write an essay in which they state that point clearly. I think that a non-fiction book would have worked better than this elaborate metaphor for the nature of reality and perception and the myth of progress in the shape of a novel. It's not just that the discussion the characters were having didn't interest me (but to be honest, it really didn't), it's that I really disliked the way in which it was presented.
The characters in this book are, to put it simply, not characters. The way they talk is absolutely unconvincing. Nobody talks like that, and nobody reacts to the situation they find themselves in the way they do. I have come across plays like this before – plays in which the characters are not characters, but puppets. Vehicles for The Idea. The Point. And I'm sure there's an audience out there for this kind of thing, but alas, I am not it.
A.S. Byatt called this "
…a metaphor for all myths and their workings in the mind (…) a brilliant post-modern, eclectic version of myth, mind and meaning. And of the human dilemma and its horns, ancient and modern.
" Perhaps some of you will agree if you read it. Sadly, I cannot.
On to
Girl Meets Boy
.
Other Opinions:
Just What You Want
An Adventure in Reading
Rhinoa's Ramblings