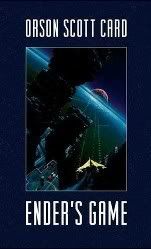 Ender's Game
is the story of Andrew Wiggins, nicknamed Ender. In a futuristic world where population laws limit the number of children a couple can have, where children are trained for war, and where humanity has twice been threatened by an alien species known as the buggers, Ender is selected for military training at Battleschool when he is only six years old.
Ender is selected because he is gifted, and at Battleschool he quickly proves that he excels like no other before him has. As the most talented among the talented, he is being trained to lead the human forces in the anticipated third bugger invasion. But this training means that he keeps being pushed further and further, and as a result of this Ender spends most of his time isolated, being bullied and envied, and feeling lonely, miserable and scared.
It's really hard to discuss the key aspects of this book without spoilers. I know that many of you have read it (
Chris
has been making sure of that :P), but for the sake of those who haven't, I'll make an effort to keep this post free of spoilers.
Ender's Game
is a very gripping novel that raises a lot of pertinent questions. What is innocence? How far can someone be pushed for the sake of the common good? What will fear drive us to do? What is blame and what is blamelessness? What can be excused, and what cannot? Do the circumstances justify certain actions? Can we ever forgive ourselves for certain things?
Ender had my sympathy from the start, and he kept it all through the story even though he does some terrible things. First because regardless of what he is put through, Ender is only a little boy, and he is always portrayed as such, brilliance aside. But above all what made me like him so much was the fact that he is more aware of the consequences of his actions than everyone else around him, including the adults – or rather, especially the adults.
Ender's Game
is a complex novel that can be taken in many ways. To me, what this story is about is the importance of compassion and empathy, and the often tragic consequences of miscommunication and distrust. I'm going to have to quote
Debi's review
here:
"I'm not naive enough to believe that war can always, in all circumstances, be avoided. But I am naive enough to believe that it usually can, and it usually should."
Me too, Debi.

What made this book jump from "good" to "really good" for me was the very last chapter – it moved me a lot. I'm not sure if there can ever be atonement for certain things, but sometimes there is little else to do but try. I was immensely glad that Ender was given a chance to try. And I loved how by the end of the story every side was humanized.

While I think that to suggest, like some have, that this book could be read as an apology of the Holocaust is beyond silly, I do think that it explores some ethical grey areas, and that it raises some questions for which there are no easy answers. But it makes us think about those things, and uncomfortable though that may be, how can it be anything but good?

Other Blog Reviews:
Trish's Reading Nook
Everyday Reads
Library Queue
Lost in a Good Story
Read Warbler
Nothing of Importance
Bold Blue Adventure
Dog Ear Diary
Stainless Steel Droppings
Words by Annie
My Year of Reading Seriously
An Adventure in Reading
Literary Escapism

---

I read the following books for the Margaret A. Edwards Challenge:

Ender's Game

by Orson Scott Card
My favourite was

Powers

by a wide margin. Not because the others weren't also really good, but simply because I thought

Powers

was pretty much perfect (just like the other books in the

Annals of the Western Shore

series.) My least favourite was probably

Psyche in a Dress

, but that doesn't mean I didn't enjoy it. I did, a lot. It's just that the others were even better. It was my first time reading Lois Lowry and Madeleine L'Engle, and I intend to read more of both of their work in the future. I know that I really have to read

The Giver

, and I'd like to read the rest of the

Time Quintet

at some point.

This was a very enjoyable challenge. My thanks to Becky for hosting it!