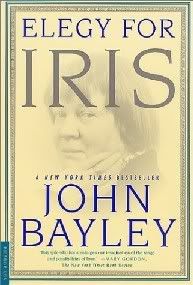 Novelist and literary critic John Bayley had been married to author Iris Murdoch for forty years when she was diagnosed with Alzheimer's.
Elegy for Iris
is his account of not only what it was like to witness her illness, but of a whole lifetime spent together.
I had been interested in reading this book ever since watching the movie
Iris
, starring Kate Winslet and Judi Dench. I was, however, slightly confused about which book to get, because John Bayley has written several books about his wife. The fact that this was the only one available on BookMooch at the time solved my dilemma, and it turned out to be the one I was looking for. There were several passages I recognized from the movie, and a lot of the dialogue was the exact same. It's funny, because as I was reading the book I kept thinking it was a difficult one to adapt into a movie, and yet I knew that it had been done, and done quite splendidly at that. This was one of the rare cases in which reading the book increased my appreciation for the movie.
Elegy for Iris
is not as depressing as you would expect a book about someone's spouse suffering from Alzheimer's to be. But this doesn't mean that it's not immensely touching. It's also a warm, gentle, intimate, and even humorous book. A lot of it focuses on John Bayley and Iris Murdoch's life together before her illness, on how they first met in Oxford in the 1950's, on what drew them to each other, on what they shared and what they kept to themselves. The result is one of the tenderest accounts of love and marriage I have ever encountered. John Bayley's concept of a perfect relationship is very close to my own:
So married life began. And the joys of solitude. No contradiction was involved. The one went perfectly with the other. To feel oneself held and cherished, and yet to be alone. To be closely and physically entwined, and yet feel solitude's friendly presence, as warm and undesolating as contiguity itself.
Iris Murdoch was a fascinating woman, and I loved reading about her. This book will appeal to book lovers on a whole other level as well: it's full of references to writing and reading, to novels (from
The Lord of the Rings
and
Alice in Wonderland
to Proust, all of which were among Iris' favourites) and poems, to other writers Iris was friends with, to the origins of some of her own work.

On top of everything, the book is exquisitely written. Bayley's love for his wife is an almost palpable presence behind every word. And it's there even during his darkest moments, even when he's dominated by rage and loneliness and despair:

...the horrid wish, almost a compulsion at some moments, to show the other how bad things are. Force her to share the knowledge, relieve what seems my isolation. I make a savage comment today about the grimness of our outlook. Iris looks relieved and intelligent. She says, 'But I love you.
What this book felt like to me was one of those moments in which you take a deep breath and enjoy a little peace before you have to face the unavoidable. A moment of tranquillity before facing what will come. "We are born to live from day to day," Bayley says at the end of the book. And before his loss inevitably comes, this is what he does.

It is wonderfully peaceful to sit in bed with Iris reassuringly asleep and gently snoring. Half asleep again myself, I have a feeling of floating down the river, and watching all the rubbish from the house and from our lives – the good as well as the bad – sinking slowly down through the dark water until it is lost in the depths. Iris is floating or swimming quietly beside me. Weeds and larger leaves sway and stretch themselves beneath the surface. Blue dragonflies dart and hover to and fro by the riverbank. And suddenly, a kingfisher flashes past.