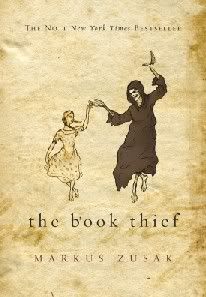 Germany, 1939. Liesel is 9 years old when our story begins. Because her parents are communists, she and her brother are to go to a foster family to remain safe. On the way there, Liesel's brother dies, and this is when Death sees her for the first time. It's also when he's buried that she steals her first book:
The Gravedigger's Handbook
.
Liesel's foster family leaves on Himmel Street, a poor area on the outskirts of Munich. Her foster mother a rough but loving woman. Her foster father is the person who teaches her how to read, who is always at her bedside when she wakes up from nightmares about her brother, who gives her the love she so desperately needs. Despite what is going on in the world at the time, Liesel's life on Himmel Street is more unless peaceful until one day Max Vandenburg, a Jew in need of help, knocks on their door.
There is much, much more to this book's plot, but I will leave it at that. I know that I'm among the last to read it anyway.
Valentina said
that, despite its grim subject matter, this book was full of love, and now I know exactly what she meant. There's as much love as there is tragedy in this story. A copy of
Mein Kampf
is turned into a picture book. A teddy bear is given to a dying American soldier. A snowman is built in a basement that hides a Jew. Pieces of bread are planted on the road do Dachau. A library window is left open so that a young girl may steal books. A young German boy painting himself black with charcoal to run, because of his admiration for Jesse Owens.
Acts of kindness – timid acts of kindness that are at the same time immensely daring. This is a story about what ordinary people were doing when the world around them was falling apart. Looking back now, we wonder why they didn't do more. But misjudging their fear, overlooking the crushing consequences of something as simple as giving a starving man a piece of bread, is an easy thing to do. There was a lot of cruelty in those years, of course. But there were also small but precious acts of kindness.
There is something that Death, the narrator of the story, says at one point that is the exactly reason why I picked WW2 as my theme for the Themed Reading Challenge: because extreme circumstances like a war act like a magnifying glass. They show humans both at their very best and at their very worst.
The writing style of this book took me some time to get used to – the odd structure, the frequent interruptions, the short, anxious, urgent sentences. But I soon realized that they fit the story perfectly, and I found the book impossible to put down (except, of course, when I needed to dry my eyes, which was often enough).

The one thing about the book that didn't impress me as much as it did other readers was the choice of Death as the narrator. By this I don't mean that I was

un

impressed. I just mean that, as an avid reader of Discworld and of the Sandman, I am used to a personification of Death looking at the ways of the world in a very human way. So this aspect of the book didn't stand out as particularly original for me. But I do think it was a good choice – Markus Zusak's version of Death is a great narrator whose presence allows the story to be told in a way that wouldn't have been possible otherwise. The effect, as I'm sure you all either known from experience or have been told, is an immensely moving one.

In addition to what I've said so far,

The Book Thief

is also a story about the power of words: to control, to wound, to heal, to save. It's about the power of stories, both the ones we tell and the ones we are told. Liesel reads aloud from her stolen books during air raids. She reads to a mother whose sons are both dead, keeping her alive. For a while anyway. Until the inevitable end.

I'm going to have to quote Valentina again. She said that this book lived up to all the hype. She was right.

Other Opinions:
That's The Book
Books Love Me
B&B ex libris
Bending Bookshelf
Em's Bookshelf
5-Squared
She Reads Books
The Bluestocking Society
Lost in a Good Story
The Written Word
Books.Lists.Life
Reading Adventures
Not Enough Bookshelves
books i done read
Bottle of Shine
Valentina's Room
A Striped Armchair
An Adventure in Reading
Maw Books
Trish's Reading Nook
Confessions of a Book-a-holic
Library Queue
...epiphany...
Book Nut
Out of the Blue
Becky's Book Reviews
It's All About Books
In the Louvre
The Hidden Side of a Leaf
Savvy Verse and Wit
Diary of an Eccentric
Caribousmom
Blue Archipelago
Reading Room
My Two Blessings
Fresh Ink Books
Chain Reading
Stella Matutina
Sophisticated Dorkiness