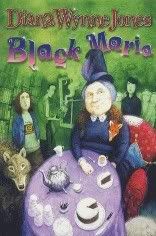 Shortly after Mig's father dies in an automobile accident, her mother agrees that the family is to spend Easter with Aunt Maria at Cranbury-on-Sea. The sweet old lady is very distressed by the death of her nephew, and she keeps reminding Mig's mother that they are now the only family she has.
But when they arrive, they soon realize that despite her teddy bear-ish appearance, Aunt Maria is an expert at manipulating others into doing exactly what she wishes. Among lace curtains and tea parties, she rules Cranbury-on-Sea with an iron fist. The more Mig and her brother Chris observe what is happening around them, the more they realize that there is something very sinister about Aunt Maria and her lovely seaside town. The men act like zombies and the children act like clones. Twelve other ladies (whom Mig and Chris baptize the "Mrs Urs") revolve around Aunt Maria like the members of a court. To make matters more interesting, there is a ghost in Chris' room. And there seems to be more to their father's accident than meets the eye.
I know I begin all my posts about her books in the same way, but let me get it off my chest: I love Diana Wynne Jones. There. With that out of the way, I will now explain why I loved this book in particular. First of all, Mig is such a great narrator – funny and warm and serious and smart. She tells the story in the first person: she's writing in her journal as events unfold. But as she confesses at the end, she did go back to edit things and add details and such. This adds another layer of wonderfulness to what already is a very wonderful story. Mig's enthusiasm for writing is contagious, and her voice turns
Black Maria
into a story that is also about the act of telling stories.
In addition to this, this story has a tight plot that makes you go "ohh!" more than once, it has characters that are fully believable no matter how eccentric they may be – and to whom there's often more than meets the eye – it has magic, cats, time travel and ghosts, and it has several deliciously humorous moments. At its core,
Black Maria
is a warm and intelligent story about the dangers of self-righteousness and manipulation, and about the utter silliness of gender stereotypes – about what can happen if men and women regard each other as members of a different species, if they start believing that they simply cannot communicate, that they are male or female before being simply people.
Add this all up, and the result couldn't be anything but a winner. Not in Diana Wynne Jones' hands anyway.
Other Opinions:
Everyday Reads