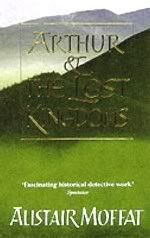 I have to confess: when I spotted this book at the library I picked it up, but I was expecting to put it back on the shelf within five minutes. As much as anything Arthurian interests me, I tend to be wary of books that distort facts to support unsubstantiated claims. However, I very quickly realized that this was definitely
not
one of those books. I also realized that I was going to have to bring it home with me.
What is
Arthur & the Lost Kingdoms
, you ask? It's a non-fiction book about the historical Arthur. Alistair Moffat's theory is simple. The reason why historians have failed to find proof of Arthur's existence is the fact that they have been looking in the wrong place. Arthur, he says, was a man of the north, a warrior, and the true site of Camelot was the Scottish Border country.
I not only didn't return the book to the shelf but became completely engrossed in it, and what first sucked me in was the realization that Alistair Moffat has what unfortunately many authors of books of this kind tend to lack: honesty. He's completely honest about his methods, and he is the first to admit that they are not the conventional methods followed by historians. He does think that his way of doing things is just as valid, but he doesn't try to convince you of that. He lets you decide for yourself. Reading the book, I began to respect him a lot, and to like him as well. He doesn't throw claims at the reader. When he speculates, he's the first to say that he is doing so. What he does is give you facts (solid, well-established ones), explain his reasoning, and let you decide if you agree with his conclusions or not.
And do I agree with his conclusions? Well, no. I also don't disagree with them. For all I know the site of what came to be known as Camelot could very well be the Scottish Borders. I just don't think there is enough information to make this conclusion a solid one. But that didn't detract from my enjoyment of the book in the least.
A lot of Moffat's conclusions are drawn form toponymy, the study of place names. This is a topic that I find fascinating, and I immensely enjoyed reading what he had to say about it. I also learned a lot about old Celtic languages, archaeological finds of all sorts, Roman Britain, and the traditions and lore of the Scottish Borders. The book is full of all sorts of interesting facts that I never knew, many of which not necessarily related to the historical Arthur (although he did, of course, include them for a reason).

On top of this, the book is written in a very accessible and captivating style. Alistair Moffat is obviously passionate about the subject he's writing about, and that too comes across. Above all, you realize that, Arthur or no Arthur, the land he is writing about is very old and very rich in traditions, and reading about those was a great pleasure.

Alistair Moffat has written other books about Celtic culture and history, and I can't wait to get my hands on them. It's not often that you find non-fiction books that are speculative (and speculating is fun, as we all know) but do not try to deceive you. I'm very glad to have found this author.