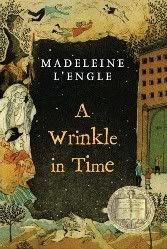 A Wrinkle in Time
is the story of Meg Murray, and of her journey through the folds of space and time to rescue her missing father. In the novel's first few chapters, we are introduced to Meg and her unique family. Her mother is a beautiful and bright scientist; her twin brothers, Sandy and Dennys, are popular in school; her youngest brother, five-year-old Charles Wallace, is extremely intelligent and precocious, but because he doesn't say much around strangers, most people assume that he's "not all there".
Unlike the twins, Meg is not doing well in school. She's having problems both at the academic and the personal levels. Her impatience and short temper keep getting her in trouble, and her grades are not the best. Because of this, Meg believes that she's not smart, and she also thinks that the fact that she doesn't fit in means that there's something wrong with her. On top of this, Meg's father has been away working on a secret project for the government for a long time, and when his letters to his family cease to come, people begin to say that he has left his wife for another woman. Needless to say, this absolutely infuriates Meg.
It is when three strange ladies by the names of Mrs Whatsit, Mrs Who and Mrs Which enter her life that things begin to change. Before she can figure out what's going on, Meg finds herself travelling with her younger brother and their friend Calvin to another planet, to rescue their father from a disembodied brain known as IT.
A Wrinkle in Time
is an intelligent book, the kind of book that does not talk down to children. While I am a big fan of children's literature, I abhor the kind of book that treats children as if they were challenged in some way or another. Madeleine L'Engle is clearly not afraid to expose children to complex ideas. Furthermore, she quotes Shakespeare, the Bible, Dante, Seneca and Pascal, among others, and introduces many of these quotes both in their original languages and in English.


Madeleine L'Engle's Christian philosophy and belief permeates the story, but never for once does it feel forced. The ideas in this book are simple but often forgotten ones, and their appeal is universal – it goes beyond age, genre, nationality or religious creed.

A Wrinkle in Time

is a story about self-acceptance, about how much better life is if we feel comfortable in our own skins. It's also about tolerance, individuality, and creativity, about celebrating our differences and the things that make us unique. And finally, it's about love, about the power of the bonds that tie us to one another.

Given this, I find the controversy surrounding this book completely baffling. How could anyone ever find these things objectionable or harmful? Then again, I have to admit that, although this is saddening, it is hardly surprising. For three great, thoughtful reviews of this book (reviews that inspired me to pick it up, I might add), check out Quixotic's, Chris' and Bellezza's.



Also Reviewed at:



Books Love Me
Library Queue
Maw Books
The Well-Read Child
Rebecca Reads
SMS Book Reviews
In Spring it is the Dawn
1 More Chapter
Bloody Bad Book Blog
Books & Other Thoughts
---
On a side note,
this
made me smile for a very long time (and Chris too, I bet). It never ceases to amaze me how the Internet has made the world so small.
ETA:
A Wrinkle in Time revisited
.