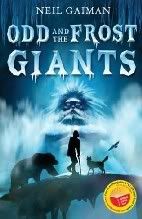 This story takes place in old Norway, at a time when the stories of the old myths were still in the making. Odd is a twelve year old boy with an infuriating smile. To the exasperation of his fellow villagers, Odd's smile did not disappear even after his father was killed in a sea-raid, or when an accident crippled his leg three weeks after that. Nobody knows what hides behind Odd's smile – nobody knows what he's feeling or thinking, and in a small village like that, that's a very rare thing.
Our story begins in a year when winter is lingering for longer than it should:
By March, the worst of the winter would be over. The snow would thaw, the rivers begin to run, and the world would wake into itself again.

Not that year.

Winter hung in there, like an invalid refusing to die. Day after grey day the ice stayed hard, the world remained unfriendly and cold.

In the village, people got on each other's nerves. They'd been staring at each other across the great hall for four months now. It was time for the men to make the longboat seaworthy, time for the women to start clearing the ground for planting. The games became nasty. The jokes became mean. Fights were to hurt.
It is in the middle of this persistent winter that Odd decides to leave his village. After an encounter with a fox, a bear and a one-eyed eagle, he discovers the reason why spring won't come. The Frost Giants have thrown the gods Loki, Thor and Odin out of Asgard. And it's up to Odd to help them, and to restore normality to the world.
Odd and the Frost Giants
reworks the Norse myth in which Thor's hammer Mjollnir is stolen by a Frost Giant, who demands the hand of the goddess Freya in marriage. And, like the best retellings do, it breathes new life into the story; it makes something that is very interesting to begin with more interesting still. And it does this by approaching an old tale from new angles, by exploring its untold corners, by pondering on the hidden emotions and secret motivations of the characters. Neil Gaiman had already proved, in works like
The Sandman
or
American Gods
, that he excels at this.
Odd and the Frost Giant
is further proof.

It's an excellent little book. It's funny at times, it's solemn when it needs to be, it gets moving towards the end. It has a great hero – one who is common enough to be easy to relate to, and odd enough to be unique and unforgettable.

It's also a story in which the author's passion for Norse mythology is almost palpable, and that alone is often enough to ignite a similar passion in the readers. And that is a precious gift.

Other Opinions:
Stuff as Dreams are Made On
Working Title
A Striped Armchair
Stainless Steel Droppings
Bride of the Bookgod
Valentina's Room
Jenny's Books
Charlotte's Library


---
I found this via Lisa at Pfeiffer Booknotes: March 2ndt-8th is Read an E-Book Week. Therefore, I am going to read an E-Book this week. Thinking of doing the same but unsure of what to read? Here are a few suggestions:

As most of you no doubt know, Neil Gaiman's American Gods was recently made available online for free for a month.

The Baldwin Project has a great collection of children's classics, including fiction, non-fiction, mythology and fairy tales. And since we were talking about Norse myths earlier, I see that they have a wonderful collection of Norse myths retold by Padraic Colum that I highly recommend.

Roald Dahl's

Revolting Rhymes

is a collection of fairy tales hilariously retold in the form of poems. You can read it online here.

But when it comes myths, folklore or fairy tales, nothing beats SurLaLune's wonderful e-library.

Now the only question is what I'll pick myself. I'm leaning towards Padraic Colum's

The King of Ireland's Son

, which I have been meaning to read for over a year anyway.