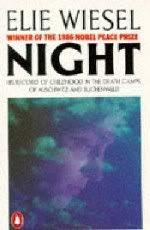 Night
is Elie Wiesel's account of his experience of WW2. He was only fourteen when he was taken to Auschwitz, and later to Buchenwald. Elie and his family lived in Sighet, a Transylvanian village that belonged then to Hungary. The Jews of Sighet were left in peace until late in the war, when Germany invaded Hungary. However, even then few believed that they were in any real danger. Elie Wiesel recounts how when Moshe the Beadle, a respected member of the Jewish community, returns to the village after having been expelled and warns them that he has witnessed a massacre, nobody believes him. People just think that he has lost his mind.
Over the next eighteen months, things become increasingly harder for the Jews, until, in May 1944, they are sent to Auschwitz:
But we had reached a station. Those who were next to the windows told us its name:
'Auschwitz."
No one had ever heard that name.
After that, Wiesel describes how, in the face of the horrors he was witnessing, he lost his faith, his will to live, and almost his very humanity. The writing style is simple, straightforward and very effective. It lets the full horror of what is being described speak for itself. One of the most impressive scenes is when Wiesel sees a boy his own age be hanged in Auschwitz. The boy was very light, so he struggled for over two hours until he finally died.
I think it's a natural reaction to wonder, when reading
Night
, why they didn't run away, why they didn't believe the warnings, why they didn't fight back. I asked myself this, and at first I caught myself attributing it to post-Enlightenment optimist and the refusal to believe that civilized men could do this to one another. But then I stopped. Would we believe it today? If we were them, would we have run away? We can say that these days we are all aware of humankind's seemingly endless capacity for violence, and yet Holocaust denial is still frighteningly prevalent. And not just that. Other things, other horrors that go on every day, are widely ignored or denied. Just in February 2007, Wiesel was
attacked
by a man who wanted to force him to declare that
Night
was a fabrication. So would we run away now? I cannot say.
I guess that it's hard to accept that even though we are all human, even though we are here together, we do this to one another. To do so is to feel extremely vulnerable, and maybe that's why people insist on narrowing down their definition of "we" to a single country, to a single ethnicity, to a single faith. But it's true that we have more to fear from fellow humans than from the wildest of animals, than from the most destructive force of nature. Perhaps facing this fact could be a first step.

It was shocking to see, as I read this book, how those people were mercilessly robbed of everything they had, of everything they were, of the very things that made them human. In the face of such harshness, of such misery and despair, even family ties began to dissolve. In the following scene, a father and a son fight each other to death for a piece of bread:

He collapsed. His fist was still clenched around a small piece. He tried to carry it to his mouth. But the other one threw himself upon him and snatched it. The old man again whispered something, let out a rattled, and died amid the general indifference. His son searched him, took the bread, and began to devour it. He was not able to get very far. Two men had seen and hurled themselves upon him. Others joined him. When they withdrew, next to me were two corpses, side by side, the father and the son.
I was fifteen years old.
The book ends on a very bleak note, but there is some comfort to be found in the knowledge that Elie Wiesel went on to become such a prolific writer, and a Nobel Prize for Peace winning activist.

Read

Night

. It's an important book
Reviewed at:
Book Addiction
Subliminal Intervention
Wordlily
Trish's Reading Nook
Grasping for the Wind
Semicolon
The Written World
Bogormen
ReadingAdventures
Book Nook Club