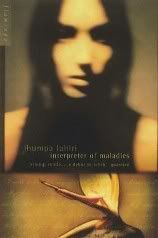 Interpreter of Maladies
is a collection of nine short stories that all involve Indians – some immigrants in America, some in their homeland. A lot of these stories deal with displacement and isolation, but, needless to say, you don't need to be Indian, or to be an immigrant, to be able to relate to the emotions they convey. All you need is to have experienced loneliness, loss, longing, intimacy, sorrow or joy in the many ways in which they come – in short, all you need is to be human.
Using a language that is subtle, precise, and disarming in its simplicity, Jhumpa Lahiri writes about unhappy couples, happy ones, affairs, a child's perception of war, youth and old age, emptiness, satisfaction, frustration, dreams both lost and come true.
Most of these stories really touched me. The first, "A Temporary Matter", is about a couple whose baby was born dead, and who now have to deal with their grief and with the increasing distance that separates them. When they get a letter warning them that the power will be cut between 8 and 9pm for a week due to some repair work, they begin to use that hour of darkness to tell each other things they had been holding back, and thus to regain some of their lost intimacy. The story ends with revelations that change things forever, and it made me feel such loss on behalf of the characters. It did what the best fiction does – it put me temporarily in the skin of another.
In "Sexy", a young American woman named Miranda is having an affair with a married Indian man named Dev. We experience all the longing, bittersweetness and ambiguity of her situation along with her, until, when babysitting a young Indian boy, she is told what the word "sexy" means to a child, and consequentially begins to see her relationship in a different light.
"Mrs. Sen's" is a story about homesickness and displacement. Through the perspective of an eleven-year-old boy named Eliot, we witness Mrs Sen's struggle to adjust to a way of life that is different from everything she has ever known.

The last story, "The Third and Final Continent", is about growing intimacy and finding a place to call home. The protagonist leaves India for England and then for America. Before going to America, he gets married. The marriage is arranged by his and his bride's families, and his wife is to join him in American when her papers are ready. In the meantime, he rents a room at Mrs. Croft's house, and is very surprised to learn that his landlady is 103 years old. It is in the presence of his elderly lady that he and his wife begin to overcome the awkwardness of being two strangers married to each other, and to truly become a couple.

Jhumpa Lahiri is clearly a writer of great perception, and of equally great precision. Nothing in her stories is overstated, and her wording is always exactly right. What really won me over, though, was how superb her characterization is. All her characters are painfully human.

Interpreter of Maladies

is well worth reading.



Other Blog Reviews:


Bold Blue Adventure
books i done read
Book Addiction
Age 30+: A Lifetime of Books
Care's Online Bookclub


---
And so, I dare not count how many months later, I complete my first read for The Pulitzer Project! It's really not that I have lost interested in the project, it's just that the fact that it has no deadline means that the challenges that do have deadlines keep getting in the way. But from now on I'm going to discipline myself. I'm going to read at least one book for the project each month. Of course that means it will take me forever to complete it, but I knew from the start that this was something to be done in the long run. And on good months I may be able to read two. Dare I say three?

I also want to plan my monthly reading in other ways. I want to read at least two non-fiction books a month. I know that's still not much, but it's better than, say, zero. March was actually good in that way, I read 4 non-fiction books, woohoo! And after May I'll have the Non-Fiction Five challenge to give me extra motivation. Speaking of which, I still need to make my list…

Finally, to make sure I don't start feeling trapped by all these challenges and plans, I want to make sure I leave room for at least two whim reads a month – for books that aren't on any of my challenge lists, but that happen to catch my eye at the library, or that I already own but have yet to find a suitable excuse to read. Should I be worried that I'm assigning monthly slots to whim reading? Does it defeat the purpose? Well, I'll see how this plan works after trying it for a while.