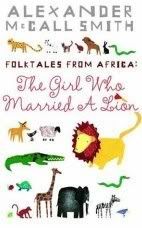 The Girl Who Married a Lion: Folktales from Africa
is a collection of traditional stories from Zimbabwe and Botswana, retold for young readers by Alexander McCall Smith. These stories are retold with spirit and humour, in a language that is accessible and simple—but not too simple. This is certainly a book that both children and adults can enjoy.
In these stories, a drowned girl is brought back to life by crocodiles, Hare ticks Lion several times, a man discovers a tree that provides him with food if he sings to it, a brave hunter learns that cruelty often comes at a high price, friends quarrel and are reconciled, the cost of ingratitude is shown, and of course, a girl marries a lion. These are stories about hyenas, jackals, leopards, goats, crocodiles, lions, hares, and elephants. But they are also stories about people, about loyalty and companionship and perseverance and astuteness and trust.
As Alexander McCall Smith writes in the book's introduction,
These stories are often funny, but sometimes they are sad—just like life itself. They all tell us something about things like courage and selfishness. They show us that it's not very clever to trick others, and that you should be kind to your friends and to people who are weaker than you, and so on.
Indeed, many of these stories had me laughing out loud, despite dealing serious subject matters such as hunger and betrayal. It goes to show how learning to laugh at things is better than letting them beat us. My enjoyment of this book was greatly increased by Naomi Holwill's many wonderful illustrations, some of which can be found
here
. Sadly some of my favourites are not available online. They are simple black and white illustrations, but they are so incredibly expressive. The looks on the faces of the animals often had me giggling before I even read the story.
This book is a fast read (too fast—it was over much too soon), but a rewarding one nonetheless, and I look forward to getting my hands on its companion volume,
The Baboon Who Went This Way and That
.
Other Opinions:
Reading Adventures
---
Buy A Friend a Book Week is being celebrated all over the book blogging world - there are lots of giveaways going on right now! Jenclair's weekly giveaway is a copy of

The Shape-Changer's Wife

by Sharon Shinn. Leave her a comment here to be entered. Chartroose is giving away five books, including the popular

A Thousand Splending Suns

. Click here for details. Jaimie is giving away 3 very interesting sounding books here. And finally, Dewey is also celebrating both BAFAB Week and her blogiversary! She is giving away two $20 Amazon gift certificates. Aren't book bloggers great?