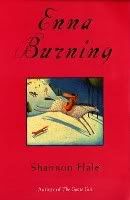 The story told in
Enna Burning
starts two years after the events of
The Goose Girl
. Enna is back in the Forest, living with her brother. One day, he brings home a mysterious piece of vellum that teaches him the power of fire. But fire consumes all, and this is not an easy power to control. In the meantime, Tira, a kingdom to the south of Bayern, takes some of the Bayern towns and villages near the border, and war seems inevitable. Returning to the capital of Bayern, Enna is reunited with her best friend Ani (or Isi), who tells her that she is being plagued by her own power. She can no longer silence the voice of the wind, and she aches for a moment of quiet. As the war advances, it becomes clear to Enna that having power over fire will be crucial for its outcome – but at a price.
Enna Burning
is quite a bit darker than
The Goose Girl
. For the first third of the book or so, I thought I wasn't enjoying it quite as much, but when I was done with it I realized that I possibly enjoyed it even more. This is not a story that sucks you in right away in the same way
The Goose Gir
l does, but once it gets going, it really gets going.
The story is told from Enna's point of view, but Ani is in it quite a bit, as are other familiar character like Finn, Razo, Talone or Geric. I think I prefer Ani to Enna – Enna is quick-tempered, impulsive, and she makes mistakes that Ani probably wouldn't make. But then again, that's what makes her story so interesting, and she learns and grows a lot through the course of it.
Enna Burning
is a complex and suspenseful story about the dangers of power and war, about the cost of magic and bloodshed, about regret, loss, balance and guilt. And, most of all, it's about the power of friendship and love – about how reaching out for others, trusting, can often save our lives.
I think that in the end what made me enjoy this even more than
The Goose Girl
was the fact that it was more character-oriented. Which isn't to say that the plot isn't interesting. I loved the fact that we got to see even more of the world Shannon Hale created – the kingdom of Tira, and Yasid, the land of the fire-worshippers.

There was something about

Enna Burning

that reminded me a little of Ursula Le Guin, particularly of the latter Earthsea books. Perhaps it was that Enna's struggle with fire reminded me of Tehanu and Iria. Anyway, I'm sure that most of you realize that I mean this as a huge compliment.

Go on, read this series. You know you want to.

(And although I am not supposed to be buying more books, I have just ordered

River Secrets.

This time, we follow Razo as he travels to Tira. I can't wait.)



Other opinions:


Nothing of Importance
Melody's Reading Corner
Rhinoa's Ramblings
Words by Annie
The Written World