My new bookshelves are up! I did some rearranging in the old shelves too, so only one and a half out of four new shelves were filled up. That means that there's lots of room left for future books, which is a a very good thing indeed.
Here are a few pictures: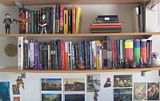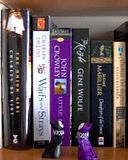 The lower shelf is all fantasy; the second one has some more fantasy, some journals and books I'm not quite sure where to put, and my (less than impressive, I know) science fiction collection, appropriately decorated with Londo Mollari and Kiff. Now I just need a Marvin to put in front of the Hitchhiker's books.
---
Chris over at Stuff as Dreams are Made On asked
his fellow bloggers a question:
What's your favorite book or books in your library? Not necessarily the title, but the book itself.
I have to confess that, unlike some other book lovers, I don't really have many "special" editions. I do plan on eventually getting nice things like hardcover editions of my favourite books,
The Absolute Sandman
, or
The Complete Calvin & Hobbes
, but I haven't been able to afford those yet. Having said that, there are a few books in my collection that I especially treasure: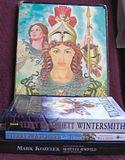 The largest one is a Portuguese edition of Michael Gibson's
Gods, Men and Monsters from the Greek Myths
, illustrated by Giovanni Caselli. The book is a collection of Greek myths retold for children, and as far as I can remember I have always owned it. Even before I could read I would look at the pictures over and over again. And after I learned to read, I read it until it almost fell apart (the picture doesn't quite show it, but the book is currently being held together by scotch tape). This book is partially responsible for my love of mythology, fantasy and stories in general, which is the same as saying that it is partially responsible for making me the person I am today.

Mark Kozelek's Nights of Passed Over is a poetry book. Mark Kozelek of the Red House Painters and Sun Kil Moon is one of my very favourite songwriters, and this book collects his lyrics. It's a bilingual edition, but I pretty much ignore the translations, as translations are something I'm a bit wary of, especially when it comes to poetry. Anyway... the book was originally only published in Portugal, and I went to a release party where he played a few songs and signed books. This was many years ago, and since then I've been lucky enough to meet some of my other favourite musicians, and even a favourite writer. But that was the very first time I met someone I greatly admired, and so it was very special. Also, I was a nervous wreck. Mark Kozelek is known for being a bit cranky, but he was perfectly lovely to me. I think I might have embarrassed him with my excessive enthusiasm. Here's what he wrote: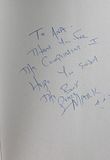 On a side note, the name of my blog is actually a reference to this book. "Things Mean a Lot" is the title of a Red House Painters song, but the reason why I named my blog after it was something he wrote in the introduction:

While checking back through the lyrics for a final look, a few lines in particular caught my attention, both from the song "Things Mean a Lot". One is, "things mean a lot at the time, don't mean nothing later," and the other, "scares me how you get older, how we forget about each other." I was feeling bitter when I wrote the song, but it's clear that everything has its place and meaning, and that no one is forgotten.
This passage struck a cord with me, because I have always believed in the importance and meaningfulness of little things; and that, ideally at least, the things and people (and books) that were once important to us will always be special in a way, no matter how much we change or what happens in our lives.

Finally, my copies of

Wintersmith

and

The Last Hero

signed by Terry Pratchett are the most special of all. I don't think I need to explain why - anyone who's been reading this blog for longer than, say, two days, will know that I pretty much worship Terry Pratchett. So these books are precious to me, and their place in my heart will only be matched if I ever get to go to a Neil Gaiman signing. Who knows, maybe someday...