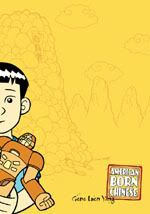 American Born Chinese
is the story of the Monkey King, an irreverent hero of Chinese folklore who defies the gods themselves. It's also Jin Wang's story: he's a second-generation Chinese boy growing up in America, and he has to face all the difficulties people growing up have to face, plus all the extra ones that being part of a minority brings him. Finally, it is Danny's story. Danny is an American boy whose social life is constantly ruined by the embarrassing yearly visits of his Chinese cousin Chin-Kee. These three seemingly separate tales are revealed to be different facets of a single story in an intelligent twist near the end of the book.
I've seen this book be compared to Toni Morrison's
The Bluest Eyes
, and although I haven't read it (yet), judging by the
reviews
of the participants in the
My Year of Reading Dangerously
challenge, I can see why. The books share a theme of racial self-hatred and its consequences. What happens when these young men and women begin to interiorize the way they are portrayed by society at large?
American Born Chinese
also deals with self-acceptance, identity, and friendship. There are many funny moments in the story, but, like the best sort of humour, this doesn't get in the way of the book's seriousness or poignancy. There is also a certain amount of subtlety and – what to call it? – tenderness in the way the story is told that I really appreciated.
I also really admire Gene Luen Yang for being brave enough to use a character like Chin-Kee, who embodies all the racial stereotypes associated with Chinese people: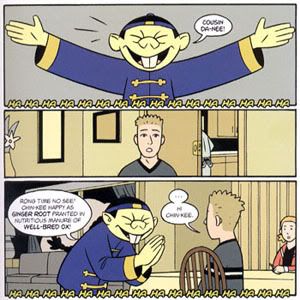 As the author says in this very recommendable piece about the novel (my thanks to alisonwonderland for the link), "In order for us to defeat our enemy, he must first be made visible." The character is used very cleverly, and his courage in writing this book is an important step towards the deconstruction of these stereotypes.

I won this book from Dewey, and I wanted to thank her once again for it. I picked it because I had just read Athena's review, but I'm sure you all know how it is: after we read a positive review of a certain book we have the impulse to buy it right away, but after some time passes we sort of forget that we want it so much. So who knows when I'd have picked up this lovely book if it hadn't been for Dewey's give-away. Thanks!
Other Blog Reviews:
The Hidden Side of a Leaf
Everyday Reads
Epiphany
Stuff as Dreams are Made On
Bermudaonion's Weblog
An Adventure in Reading
Book Nut
Tripping Towards Lucidity
Frenetic Reader
nothing of importance
Worducopia
The Written World
The Book Zombie
Book Addiction
Regular Rumminations
Books of Mee