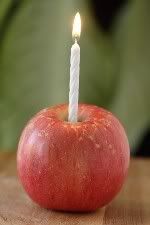 It was one year ago today that I posted on this blog for the first time. My very first post is an odd one, I know. I didn't really take the time to introduce myself, and the reason is the fact that at the time I was not aware that I was going to start posting on this blog regularly. It was through the first Once Upon a Time Challenge that I discovered the world of book blogging. At the time, I didn't know that my wishlist was going to be multiplied by ten. I didn't know I was going to go from making sure I never had more than 5 to 10 unread books in the house to the current 80+. I didn't know I was going to become addicted to reading challenges. AND I BLAME IT ALL ON YOU.
I also didn't know that I was about to discover a community of sensible, smart, enthusiastic and likeminded people. I didn't know how much fun I was going to have discussing the books I read with all of you. I didn't know how many wonderful authors I would be introduced to (Shannon Hale, Charles de Lint, John Connolly and John Bellairs, just to name a few), I didn't know that my reading horizons would be expanded, that I was going to step out of my comfort zone and try books I probably would never have tried otherwise. I didn't know that being immersed in a world that constantly celebrates the love of books would make me read even more than in previous years. I didn't know I was going to make new friends.
It's been a great year, and, like many of you have, I decided to celebrate by giving back. Because the first week of April is also
Buy a Friend a Book Week
, I'm going to join the two occasions and give away five books.
I chose the first four because a) I love them and b)I want to spread the love. They're all books that I think are less well-known than they deserve to be, and I want to do what I can to change that. The 5th is a bonus, but we'll get to that in good time. The books are: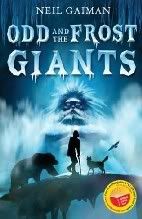 Finally, the bonus book is Neil Gaiman's

Odd and the Frost Giants

. Why? Because it's Neil Gaiman, it's great, and I know that many of you want it. Interested in any (or all) of these books?

Here are the rules

:

You can be entered for all five books if you want, but you can only win one.

Help me spread the word by posting about this giveaway and I'll enter your name twice for the books you're interested in.

Leave me a comment saying which book(s) you're interested in

by Friday the 4th of April

. I'll announce the winners (to be selected through the classic names in a hat method) on the 5th.

Good luck!
And thank you everyone. Sharing my love of books with you for the past year has been a pleasure.