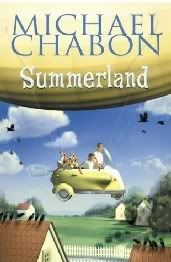 The story of
Summerland
starts in a place called Clam Island – a very peculiar island off the west coast of the United States. The island has a corner that is known as the Summerlands – a place where, from June to August, it never, ever rains.
Meet our protagonist: Ethan Feld is eleven years old, and shortly after the death of his mother he and his father moved to the island. To Ethan's great embarrassment, despite his father's support and enthusiasm, he is no good at baseball. He is, in fact, the worst player his team has ever known. Ethan's life changes when he is visited by a werefox named Cutbelly. The werefox lets him know that the world Ethan lives in is only one of four existing worlds. Our world known as is the Middlings. There is also the Summerlands (inhabited by the Ferishers, known on this side as Faeries or Fay Folk), the Winterlands, and the Gleaming, the world of the gods. The reason why it never rains in that particular corner of Clam Island, Cutbelly explains, is the fact that it is a place where two leaves of the Tree of Life are so close together that the place simultaneously exists in two different worlds.
Now trouble is at hand. Coyote, the Changer, the Trickster (also known as Raven, Loki or Satan, among other names) has a plan to poison the Tree that holds the universe together, and end existence as we know it. Somehow it's up to Ethan (along with his tomboy-ish friend Jennifer T., and his other friend Thor, a boy who believes he's an android) to put a stop to Coyote. They are joined by a Ferisher Chieftan, a Sasquatch, a very small giant, a wererat and a sullen Ferisher princess in an adventure that involves flying cars, gigantic catfish, thunderbirds, La Llorona, travels from world to world, tricking giants, and playing lots and lots of baseball (but if, like me, you don't particularly care or know anything about sports, don't let this scare you away).
Until very recently I had no idea that Pulitzer-winning author Michael Chabon had written a YA fantasy book. I spotted this at the library, and when I realized it had won the 2003 Mythopoeic Award for Children's fiction, I decided to take it as a sign. This book is different enough from
Kavalier & Clay
to make it obvious that Chabon is a very versatile author - but at the same time there is a certain something that is very uniquely his that can be found on both books.
Summerland
reminded me of what
American Gods
might have been like if it had been a YA book. It's not exactly that the books are similar, but they do have certain aspects in common. Both explore several world mythologies - mostly Norse, European and Native American in this case – in a distinctively American context.
Summerland
is, of course, not as dark a story, and it is more humorous, although it does have its dark moments.

The story is humorous and action-packed, but it has a more serious side, too. We are shown Ethan and his father's efforts to cope with the death of Ethan's mother. For example, Mr. Feld insists on maintaining the family ritual of having pancakes for breakfast each Saturday, even though he can't make pancakes to save his life. In a touching scene we see him sighing after another Saturday morning failure and saying, "If only she'd written down the recipe." And later in the book there's a passage that I absolutely loved:

The grief of his mother's death was returned to him, then; it resumed its right and familiar place: a part of life, a part of the story of Ethan Feld, a part of the world that was, after all, a world of stories, tragic and delightful, and, on the whole, very much the better for it.
I loved how well figures from all sorts of different mythological and folkloric backgrounds were incorporated into the story. I also loved that even though Coyote is undeniably the villain in this story, the ambiguity that characterizes the trickster figure was maintained to some extent. Coyote, we learn, is responsible for crossroads, for choices. He's also responsible for pizza, for baseball, and for all those little things that, while not exactly good for us, make life so much more enjoyable.

This sounds rather wonderful, doesn't it? But have you ever had the feeling that you didn't enjoy a book as much as you should have? That happened especially with the first half or so of this book for me. I think it probably helped that I started reading it at a busy time - last weekend my parents were visiting, so I only managed to read 10 pages here, 10 pages there. What happened was that the unfamiliarity we all fell when starting a new book – not quite knowing what's going on, or which character is which—went on for much longer than it should have. It took a long time for me to feel at home in the story, and when I finally did I felt like I had missed something at the start.

Then there's the fact that baseball is a huge theme in this book. What in other fantasy books is achieved by fighting battles is solved here by playing baseball. I can't really complain about this approach in itself – it's highly original, and the baseball scenes are well written, but of course I would have enjoyed it more if I had been at least remotely familiar with the game, which is not the case. All I know is that it involves bats and gloves.

Still, this is undoubtedly a good book, and it's one I'd like to re-read some day, under different circumstances. To read an excellent interview with Michael Chabon about this book, click here.



Other Blog Reviews:


books i done read
A Fondness for Reading