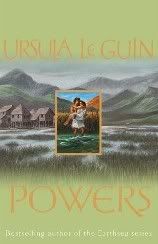 In
Powers
, Ursula Le Guin takes us to yet another part of the Western Shore, and introduces us to a new first person narrator. Gavir is a slave in the city of Etra. He and his sister Sallo are marsh people, but they were captured by slave raiders when they were very young children. They belong to the House of Arca, and their masters are not unkind. Gavir is a scholar-slave, a slave who is destined to teach the family's children when he grows up. He is given an education, and he is treated with some respect and kindness. But, as he slowly begins to realize, this is a kindness that shouldn't exist. Nobody should have the life and fate of another at the mercy of their kindness.
In the first part of the novel, Gavir describes his upbringing in the House of Arca – the games he played with the master's children; the idyllic summers spend at a farm outside the city, a place in which the line between master and slave was often blurred; his own education and his ever-growing love for poetry and stories. At first, Gavir accepted the way things were, simply because that was all he'd ever known. He believed that the distinction between master and slave was part of a sacred order than couldn't be challenged. And as we all know, this is unfortunately true of many people in many different kinds of unfair circumstances.
As time passes, Gavir goes through a series of situations that shatter his view of the world and break the trust he had in his maters. His eyes begin to open:
I had blinded my eyes with belief. I had believed that the rule of the master and the obedience of the slave was a mutual and sacred trust. I had believed that justice could exist in a society founded on injustice.
During a siege to the city of Etra, he is introduced by other educated slaves to the work of the poet
Orrec Caspro
, and, through it, to the concept of liberty. He says the following of the poetry book he is given:
It was the first book I'd ever owned. It was the first thing I'd ever owned. I called what I wore my clothes, the desk I used in the schoolroom I called my desk, but in fact they were not mine, they were a property of the house of Arca, as I was. But this book, this was mine.
As the story moves on, Gavir learns. He learns what freedom truly is—it is more than just not being a slave. He learns what and where his home is, he learns who he truly is, he learns about the ties that bind us to one another, and he learns about their meaning. And above all, he learns about the power of knowledge, of stories, of poetry. He learns that those things bring light into the darkest recesses of our lives. When he tells stories to a community of escaped slaves living in the forest, he broadens their horizons, he changes their lives. With stories, we imagine, and when we imagine, we see possibilities. And it is only when we see several possibilities that we can change our lives.



Powers

is perhaps less immediate than the other books in the series—its pace is slower, and the story is a more contemplative one. But that doesn't make it any less rewarding, nor any less beautiful. The characters are extraordinary and fully believable; the writing is beautiful; the themes the book deals with are pertinent; the story is engaging. What more can one ask for in a book?

As some of you might remember, I said that

Voices

and

Gifts

don't have to be read in order. I maintain that, but I do think it's advisable to read both of them before

Powers

. The story is completely stand-alone, and familiar characters from previous books only make their appearance towards the end, but being familiar with the dynamics of the world the series is set in will make the story more rewarding, more touching, and it'll make the ending have a much greater impact.

Now that I've read this book, I have a whole new perspective on the Western Shore. The world Ursula Le Guin created for these books is, in some ways, reminiscent of the Ancient World. Some parts are a little like Greece and Rome (Gavir has the status, for example, that learned Greek slaves had in Rome), others are more like the East. But what makes this fantasy setting all the more effective in dealing with issues of power, gender, equality or freedom is the fact that, unlike history, it cannot be thought of as being over and done with. With historical novels, people can say, "but that was then". But fantasy is neither then nor now, neither here nor there, and thus it is always and everywhere. The things that happen in these books happened in antiquity, and they happen still even if under slightly different guises. It's good to have stories that force us to face them as they are and to think about them.

The Annals of the Western Shore has now a firm place beside Discworld, Earthsea, His Dark Materials or The Sandman as one my very favourite fantasy series. I can only hope that someday Ursula Le Guin writes more stories set in this wonderfully rich world. There's definitely room for more, and I'd be delighted if she wrote them.