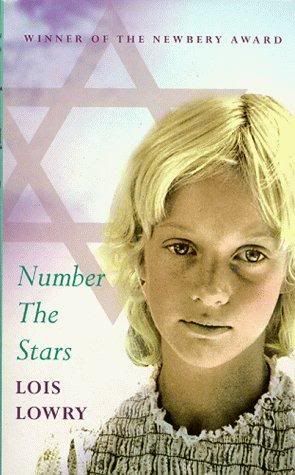 Number the Stars
is the story of Annemarie, a ten-year-old girl living in Denmark in 1943. Annemarie's best friend, Ellen, is Jewish, and the book tells how Annemarie's family helps Ellen and her family escape to Sweden, a country that remained neutral and free of Nazi occupation during the war.
Number the Stars
tells a simple but very effective story. I knew absolutely nothing about the rescue of the Danish Jews, but, as Lois Lowry explains in the afterword, although this story is fictional, the events it recounts really did happen to thousands of families. During the war, about eight thousand Jews were evacuated to Sweden, and as a result, over 80% of the Danish Jews survived the Holocaust.
I loved this book because it tells this story in such a human way. It reminded me of why I picked WW2 as my theme for the Themed Reading Challenge. War stories tend to show humans at their very worst, but they also can show them at their very best. And they remind us that, uncomfortable as the fact may be, both the best and the worst are part of the range of being human.
This book is about the courage of ordinary people. It's about how heroes are people just like you and me, who did the right thing at the right moment even though they were afraid. At some point in the book, Annemarie thinks:
"It was only in the fairy tales that people were called upon to be so brave, to die for one another. Not in real-life Denmark. Oh, there were the soldiers; that was true. And the courageous Resistence leaders, who sometimes lost their lives; that was true, too.

But ordinary people like the Rosens and the Johansens? Annemarie admitted to herself, snuggling there in the quiet dark, that she was glad to be an ordinary person who would never be called upon for courage."
Of course, as the story unfolds she is proven wrong. And stories like this are inspiring exactly because they show that doing something like this is not superhuman, or out of reach for ordinary people. It's something we can all do.
Number the Stars
is so powerful because it doesn't say that the people from Denmark are better than, say, the people from Poland because of how they behaved in the War. What it does say is that ordinary people can do something to put a stop to this sort of horror. Some circumstances will make taking action easier, while others will make it harder. Trying to understand the circumstances will make it easier for us to understand the people who get caught up in them.

Reading this book I was reminded of a scene in one of my favourite books,

Everything is Illuminated

by Jonathan Safran Foer. It's a gut-wrenching scene told from the perspective of a Polish man—in his small town, the Nazis gathered the whole population in front of the church and started asking people who among them is Jewish. The only Jewish person there is the man's best friend. Every time the Nazi officers ask the question and don't get an answer, they shoot a random person. The man's whole family is there, and he knows they can be shot next. He knows he himself can be shot next. So he gives his best friend away. It's a terrible thing, of course, but what makes that scene in the book an extraordinary piece of writing is the fact that it shows how well the man, in his fear, in his despair, knows that it is a terrible thing. It is easy to condemn someone in that situation, but it's only by trying to understand them that we can ensure that things like this don't keep on happening.

In the same way that

Everything is Illuminated

humanizes those who were weak,

Number the Stars

humanizes those who were strong. And it shows both the courage of those who did something and the courage of those who stayed at home. Annemarie's father, for example, couldn't take part in the rescue, but he is not less a person than those who were directly involved. In his own way, he was doing his part too. Those who work quietly in the background are as valuable as those who are more visibly heroic.

This is a truly great book, and I strongly recommend it to children and adults alike.



Other Blog Reviews:


Nothing of Importance
Rhinoa's Ramblings
Maw Books

---
I wish I had the time to write a proper post, visit your blogs, and reply to comments before going off again today. Scotland was wonderful, and I can't wait to share my pictures and impressions. I managed to write this because I ended up not being able to fit

Powers

in my bag, and

Number the Stars

is such a quick read that I ran out of book to read on my very first evening in Inverness. So I spent the rest of the long evening writing my thoughts on it. Then the following day I caved and bought a book, but that's a whole other story, best told at another time :P

Anyway, I hope everyone is doing well, and I will catch up on your blogs sometime soon.