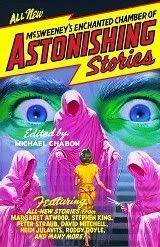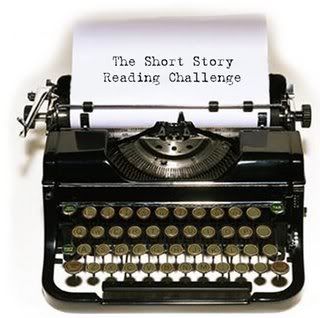 As I mentioned some time ago, when I was up in Inverness and found myself bookless, I ended up finding a great book for £3 in the clearance basket at Waterstone's. The book was
McSweeney's Enchanted Chamber of Astonishing Stories
, and I was thrilled to find it, not only because it would solve my predicament, but also because it was perfect for the Short Story Challenge.
McSweeney's Enchanted Chamber of Astonishing Stories
is an anthology edited by Michael Chabon and illustrated by Mike Mignola. One of the reasons why I love Michael Chabon (other than the fact that I really enjoy his writing) is the fact that he uses the credibility that being a Pulitzer-winning author gives him among certain circles to voice his belief that genre fiction has as much merit as so-called literary fiction; that it needs not, should not apologize for being what it is; that any classification that sends the kind of literature that bends the boundaries of the real to the ghetto is nothing short of absurd.
The contributors to this anthology include Margared Atwood, Daniel Handler, Joyce Carol Oates, Stephen King, China Mieville, Peter Straub, Poppy Z. Brite and Roddy Doyle, among others. I love the fact that Chabon picked stories by both "respectable" and "ghetto" authors and allowed them to stand side by side, as they should. What all these stories have in common is the fact that they could all be classified as genre fiction. It could also be said that all these stories defy classification.
I decided to start by reading 5 stories by new to me authors. To make things more interesting, I picked 5 authors I had never read before even though I really should have - they are all very well-known authors that have been recommended to me countless times, but for one reason or another I had yet to read them: they are
Roddy Doyle, Stephen King, China Mieville, Poppy Z. Brite and Peter Straub
.
"The Child" by Roddy Doyle
is probably the most disturbing story of the lot. I really enjoyed the writing style - the story is written in short sentences that perfectly convey an increasing sense of anxiety and are evocative of a person short of breath. This is a ghost story, maybe, or a murder mystery, or perhaps just the story of a man losing his mind.
"Lisey and the Madman" by Stephen King
is the short story that originated the novel
Lisey's Story
. I found it intriguing, and it made me want to read the novel. In the story, Lisey Landon's husband, a famous writer, is shot during a ceremony in Tennessee. The story ends with him still alive in the hospital, and there was a detail at the very involving glasses that really peaked my curiosity. I wonder how relevant it is in the novel.



"Reports of Certain Events in London"

by China Mieville is, at first glance, an almost Lovecraftian tale. It stars with the author saying that what he is about to present are some reports addressed to one Charles Mieville that the he received in the mail by mistake. It takes some time for the reader to realize what the whole thing is about, but once we do, it's fascinating. It reminded me a bit of

Neverwhere

, it the sense that it also recreates magic and myths in contemporary urban landscapes.



"The Devil of Delerey Street" by Poppy Z. Brite

is an exquisitely written New Orleans ghost story, and also a story about growing up. It was an acute reminder that I really need to get around to reading some of her novels

Finally,

"Mr. Aickman's Air Riffle" by Peter Straub

was very intriguing, and also very disturbing. It is the story of four men connected to the writing and publishing world. In an increasingly oppressive context, they realize that they have more in common than they ever supposed. This is a story
where the natural and the supernatural, the psychological and the surreal, get all tangled and intertwined.

Needless to say, my experience with this anthology has been great so far, and I really look forward to reading the rest of the stories. Perhaps I'll use some more of them for the Short Stories Challenge in the future. I have 5 more new to me authors and 5 more old favourites to go until I complete it.