I've been a bad blogger lately, I know. I have not yet done the 10 Signs You Wrote a Book and the Non-Fiction memes I was tagged for by
Guatami
and
Melody
ages ago. I'm several reviews behind. I haven't been able to visit any of your blogs lately.
But it's been a busy few days. At the end of last week I had to pack all my stuff to move away from Nottingham. Fortunately I didn't have too many problems with the weight of the luggage and such, but still, packing 6 months worth of things was hard work. I had a goodbye-to-the-city-with-pictures post all planned in my head, but I ran out of time to actually write it. Anyway, I left Nottingham on Saturday even though my flight back was only (very early) on Monday, and my boyfriend and I spent the weekend in London. On Saturday we went to see The Smashing Pumpkins at the O2 Arena, and on Sunday I did some book shopping with
Rhinoa
! There wasn't much I could add to my luggage, unfortunately, but here's what I couldn't resist:
Waifs and Strays

by Charles de Lint (a signed copy! They had signed copies of several of his books at Forbidden Planet)


The Bromeliad Trilogy

by Terry Pratchett (one of my challenge books, and I wanted to get it before I left because for some reason the edition with the complete trilogy is very hard to find online. I kept seeing this at Waterstone's in Nottingham, but yesterday it proved hard to find too! There was only one copy left in the 4th bookstore we tried)


Spawn: Angela

by Neil Gaiman (This was on sale for only £2! I haven't read any Spawn before, but hopefully it will make sense as a standalone)


The Books of Faerie: Auberon's Tale

by Bronwyn Carlton and John Ney Rieber (also on sale...this is a Books of Magic spinoff, and it seems worth it for the artwork alone)
There. My last purchases for a while. Now I'm back to relying completely on Amazon and The Book Depository for books, and I promised myself I'd only order challenge books I don't yet have. Let's see how long that's going to last. I do have enough books here to keep me going for a LONG time, though.
My cats welcomed me warmly when I got home today. So did my books. Or they would have if they could. One of the first things I'm going to have to do when I have some free time is put some new bookshelves up for all the books I got in England. This is the state of my room at the moment: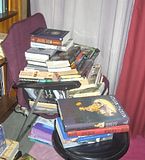 I had to pile them all up on the chair because with the piles on the floor I simply couldn't move around.
I'm going to apologize in advance for continuing to be a bad blogger for a little longer. My boyfriend has to go back to Brazil at the end of this week, and then we'll only see each other again in the summer, so we want to make the most of these last few days. But from next week on I will be able to catch up. I hope everyone is doing well!