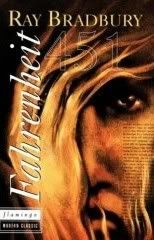 Guy Montag is a fireman. In the world where this story takes place, a fireman is not someone who stops fires, but someone who burns books. This is a world where books are forbidden, and those who own them suffer penalties that range from being sent to mental institutions to the death penalty.
This novel opens with the famous line "It was a pleasure to burn", and indeed for a long time Montag takes pleasure in his job. He lets his hands do it and shuts his brain down. But a series of occurrences make things change for him: a conversation with an old man in a park, who tells him what may or may not have been a poem; his wife's suicide attempt; a short-lived friendship with a girl, Clarisse McClellan, who sees the world in a unique way; witnessing the death of an old woman who chooses to be burned alive with her books rather than leaving them behind.
All these things make Montag open his eyes. He begins to wonder about books – about whether they may contain what is lacking in his life, what is lacking in the lives of those around him and in the world in which he lives, regardless of how far most go to deny it. He begins to think, and his life is never the same again.
In this short novel, Bradbury describes an oppressive, frightening world that is more familiar to us than it should be. There is a war going on than most people know nothing about. People interact with television rather than with one another. Alienation, numbness and isolation dominate society. Thinking has become a dangerous, undesirable thing. It is a world where there is indeed something lacking. And as the dangerous Captain Beatty says at one point in the story, it's not so much books, but what they contain. I know that I could not understand the world and people in general the way I do if it weren't for books, and this is why it seems so strange to me that some people's lives are completely devoid of them. Books remind us of who we are. If someone were to ask me what it is that defines our humanity, "stories" would be one of the first answers to cross my mind.

This book is filled with Bradbury's trademark stunning writing. Allow me to share a passage – this is something that Clarisse McClellan (an outstanding character, even if her appearances in the book are brief) tells Guy Montag in one of their talks:

'I'm anti-social, they say. I don't mix. It's so strange. I'm very social indeed. It all depends on what you mean by social, doesn't it? Social to me means talking about things like this.' She rattled some chestnuts that had fallen off the tree in the front yard. 'Or talking about how strange the world is. Being with people is nice. But I don't think it's social to get a bunch of people together and then not let me talk, do you?
There is a memorable scene in which Montag reads Matthew Arnold's remarkable poem "Dover Beach" to his wife and two of her friends, and one of them is moved to tears by it. All the women consider this a Very Bad Thing, and indeed early in the book Captain Beatty tells Montag that people self-censored books because they made them unhappy. It

is

true that sometimes books remind us of our pain, but this is also why they are so human, so necessary. We need to be moved and shaken up sometimes. We need to be reminded that not all is well. Who would be we be otherwise?

This edition has a great introduction in which Bradbury writes about his lifelong love for books and libraries. He also describes the process of getting the novel published (it was initially serialized in Playboy Magazine, as no other publisher would dare to print it), and describes some of the short stories where he originally expressed the ideas that were later developed into this story. They sound really, really great, and I need to get my hands on his collections

R is for Rocket

and

S is for Space

to read them.

I do have a complaint about this book: at some point in the story, Captain Beatty mentions that comics, along with things like instruction manuals, are among the few things whose reading is still allowed. As you can imagine, I wasn't very happy with the implications of this. But this is just a detail that I don't want to blow out of proportion. I really loved this book. It might be my favourite Bradbury so far, which is saying a lot, because I didn't think anything could supplant

Something Wicked This Way Comes.

I can see why, almost 50 years after its original publication, this book is still so widely read and acclaimed. It still is, sadly enough, as relevant as ever.

Other Blog Reviews:
Bart's Bookshelf
You Can Never Have too Many Books
Rhinoa's Ramblings
1 More Chapter
So Many Precious Books, So Little Time
Book-a-Rama
Advance Booking

---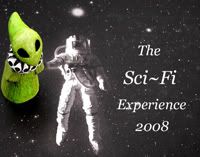 This was my last read for the Sci-Fi Experience. During January and February, I read the following science fiction books:

Fahrenheit 451

by Ray Bradbury
Some of these books, like

The Left Hand of Darkness

and

Fahrenheit 451

, were serious and thought-provoking. Others, like

Starship Titanic

, were a lot of fun. The remaining two,

Slaughtherhouse-Five

and

Dirk Gently

, were a clever mix of both. All books were, in their own way (yes, even the one I struggled with), satisfying and memorable. For this reason, I consider the Sci-Fi Experience to have been a great personal success. It certainly expanded my reading horizons, and it encouraged me to pick up some truly excellent books. And once again, my wishlist grew due to all the recommendations from the review site. Thank you, Carl, for another great collective reading experience.