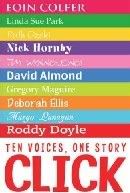 When famous photographer George Keane passes away, his grandchildren, Jason and Maggie, are both deeply affected, though they express it in very different ways. His grandfather leaves them gifts: for Jason, he leaves a collection of pictures he took of famous people from the world of sports, including the likes of Tiger Woods and Michael Jordan, all autographed especially for him. For Maggie, an ornamented box with seven comportments, each containing a different kind of seashell.
These gifts, simple at first glance, end up uncovering old secrets, answering questions that had never been asked, and changing the course of their lives in unexpected ways.
Click
is a story told in ten chapters, each written by a different author. The authors are Linda Sue Park, David Almond, Eoin Colfer, Deborah Ellis, Nick Hornby, Roddy Doyle, Tim Wynne-Jones, Ruth Ozeki, Margo Lanagan and Gregory Maguire.
Before I read the book, I wondered if it would be possible for ten different authors to write a novel and maintain a consistent voice throughout the whole thing. But
Click
deals with this problem very effectively ("duh", you will very rightfully say at this point. "What did you expect the slogan
Ten Voices, One Story
to mean?"). The ten chapters use ten different voices to tell this story, ten different perspectives (well, there are three chapters from Maggie's perspective, actually, but they show her at very different points of her life, so it works). Other than Maggie and Jason, we have the stories of people who were affected by George Keane in some way, of people who have to do with the presents he left his grandchildren, of people who were featured in some of his most famous pictures. We are told the stories behind the story, and these are subtly interconnected to form an unforgettable web.
The use of different perspectives manages to make the novel both consistent and varied. Roddy Doyle takes us to Dublin in the 1970's; David Almond shows us a beautiful island through the eyes of a girl who loves the sea; Ruth Ozeki writes of post WW2 Japan; Deborah Ellis sets her chapter in a prison in post-Soviet Russia; and in the closing chapter Gregory Maguire describes an unexpectedly scary futuristic world.

The sales of this book benefit Amnesty International, and some of these interconnected stories are a subtle warning about where the world is heading; others are a reminder of what happened not too long ago, of what still happens today. But the book manages to stay away from the kind of overly sentimental portrait of another's misery that, good intentions aside, runs the risk of cheapening the every day reality of people experiencing strenuous circumstances. The stories in

Click

are subtle, relevant, graceful and poignant. I highly recommend this book.



Other Blog Reviews:


Adventures in Reading
Cynical Optimism