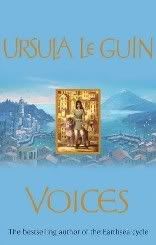 The second book in the
Annals of the Western Shore
is the story of seventeen-year-old Memer. Memer lives in Ansul, a great and beautiful city, and once an important centre of knowledge and the home to one of the world's largest libraries. Ansul is, however, under the dominion of the Alds. The Alds do their best to repress Ansul's traditions and beliefs. And what is worse, they believe books to be blasphemous, so they destroy them – along with those who read and write them – by drowning them. For the Alds, death by fire is scared, so they refuse to give books the honour of being burned.
Although raised in an Ansul household, Memer is herself half Ald. Her father was an anonymous soldier who raped her mother during the conquest of the city, seventeen year before. But the blood in her veins doesn't stop Memer from hating these people, the people who caused her and those she loves so much pain. At the start of this tale, the arrival of a famous storyteller, Orrec, and of his wife Gry to Ansul signals the beginning of a much longed for change.
Although set in the same world as the
wonderful
Gifts
,
Voices
is not quite a sequel. Orrec and Gry play an important role in the story, but this is Memer's tale, not theirs. Although somewhat thematically related, the stories are completed independent, and don't really have to be read in order. Having read
Gifts
before was helpful because it allowed me to feel immediately at home in this world, and to feel a fondness for the characters that would otherwise have taken a few more pages to develop. But anyway.
Voices
is at once a coming-of-age story and the story of a bloodless revolution. It is not quite a political story, but it's also not not political either. It's political in the sense that the personal can be political – it shows how big decisions affect individual lives, and how small individual gestures are often the start of big social changes. The story uses the private, the particular, to exemplify the social and the universal – a technique I personal find much more powerful and effective than general abstractions.
This is a story about the yearning for freedom, about the power of knowledge and the extents to which we go to save it. Our collective accumulated knowledge is, after all, often the very basis of our cultural and personal identity. It is also a story about the role of myths and stories as agents of change. As this book shows, the stories we hear and do not hear often shape who we are. The stories we are allowed to tell affect the way we see the world.

This is a story about oppression and occupation, but Ursula Le Guin is much too intelligent to make it a simplistic story about the evil oppressor versus the oppressed victim. Nothing about this book is simple. As I said, it tells the story of a bloodless revolution – during the course of the book, change finally comes to Ansul, and it's not achieved through force of arms. That doesn't mean, however, that things come easily. This book is full of tension, of difficulties, of fears, of demands. The final solution that is found is, as often in life, a compromise. Nothing is simple, nothing is idealized.

The situation in which Ansul is at the start of this book in one that has happened time and again in human history, and happens still in our days. People of different cultures fight and fear and deeply mistrust one another. The solution achieved here is one that unfortunately is not often seen in real life. This is a tale of what never was, but could have been, can still be, if only people become more willing to get to know others and to accept differences, even the ones we find unthinkable.

As the story develops, the way the Alds are portrayed begins to change. Little by little, they begin to be humanized, and Memer realized that in her blind hatred she had been doing the very same thing that was done to her people. She was demonizing a whole people just because of their differences. Memer slowly realizes that there is more to Ald culture than mindless violence.

I cannot remember where, but I once read a review that said that Ursula Le Guin writing for children is more complex and relevant than many authors writing for adults. I wholeheartedly agree with this. This is a book for younger readers that is beautiful, intricate and wise. It reminded me a little of Terry Pratchett's Thud! in the way it uses a fantasy setting to deal with issues like racial and ethnic tensions, cultural domination and social change, and does it in a way that is both touching and insightful. Ursula Le Guin is a wise woman, and this is a book I won't easily forget. I will leave you with her words:


I always wondered why the makers leave house-keeping and cooking out of their tales. Isn's it what all the great wars and battles are fought for - so that at day's end a family may eat together in a peaceful house? The tale tells how the Lords of Manva hunted and gathered roots and cooker their suppers while they were camped in exile in the foothills of Sul, but it doesn't say what their wives and children were living on in their city left ruined and desolate by the enemy. They were finding food too, somehow, cleaning house and honoring the gods, the way we did in the siege and under the tyranny of the Alds. When the heroes came back from the mountains, they were welcomed with a feast. I'd like to know what the food was and how the women managed it.

'Heathen,' they called us. A word we learned from them. If it meant anything, it meant people who don't know what's sacred. Are there any such people? 'Heathen' is merely a word for somebody who knows a different sacredness than you.
Other Opinions:
Stuff as Dreams are Made On
The Written World