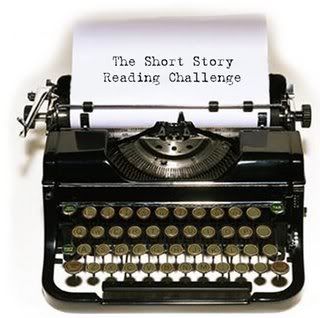 I
had decided
that, for the
Short Story Challenge
, I was going to read 10 stories by new-to-me authors. I'm still going to do that, but I decided to also treat myself to 10 short stories by authors whose work I already know and like. Here are the first 5 of those 10. Please bear with me as I further explore the worlds of
Angela Carter
,
Joyce Carol Oates
,
Tim Pratt
,
Eden Robinson
, and
Beth Brant
.
"Peter and the Wolf" by Angela Carter
starts when, in a small mountain town, a woman is killed by a pack of wolves. Her newborn baby disappears without a trace. 17 years later, when the wolves come close to the town once more, the dead woman's nephew spots a girl among them. Angela Carter takes the tale of the feral child and shapes it into a lush story about freedom and desire. This story is available in the collection
Black Venus
aka
Saints and Strangers
, and also in
Burning Your Boats
, a beautiful little volume containing all of her remarkable short fiction. I picked it up at the library just to read this one story, and I discovered that it has a beautiful introduction by Salman Rushdie—it reads both like a homage to a remarkable writer and like a moving elegy for a lost friend.
She opens an old story for us
, he says,
like an egg, and finds the new story, the now-story we want to hear, within
. How true, and how beautifully put.
One more bit:
She hadn't finished. Like Italo Calvino, like Bruce Chatwin, like Raymond Carver, she died at the height of her powers. For writers, these are the cruellest deaths: in mid-sentence, so to speak. The stories in this volume are the measure of our loss. But they are also our treasure, to savour and to hoard.
"Where Are You Going, Where Have You Been?" by Joyce Carol Oates
is a story I first became interested in because I heard it'd been inspired by the Bob Dylan song "It's All Over Now, Baby Blue". It's a good story. I really like Joyce Carol Oates' writing style, and this story is a good example of it. How do I summarize the plot without giving too much away? The story is about a teenage girl, Connie, who finds herself in a situation of possible abuse, and the ending is extremely ambiguous. Like most of Oates' writing (or what I've read of it so far), the story is sad and more than a little disturbing. That doesn't make me like it or her any less, but she's not an author I would pick up if I needed some cheering up. This story can be read online
here
.



"The River Boy" by Tim Pratt

is a fairy tale about an old woman whose greatest desire was to have one last child, and about the consequences of that ungoverned desire. It's a beautiful story, and once again it proves that Tim Pratt is a writer to keep an eye on. Given how much I enjoy his short stories, I really have no idea why I've yet to buy any of his books. But anyway, what I loved the most about this story was its simple but soothing and griping style, and also the fact that it reads as if it were being told by a parent or a grandparent to a young child. The fact that Tim Pratt dedicates it to his son makes it all the more touching, especially considering the fact that the story says a thing or two about parenthood—about loving but letting go. The story is available online, and it's a very fast read. If you have some 10 minutes to spare, please do yourself a favour and give it a try.



"Queen of the North" by Eden Robinson

is the short story that originated

Monkey Beach

, a novel that I read and loved last year. In fact, the plot is so closely related to

Monkey Beach

that if I say too much about it I will be giving away the ending of the novel—so I'm going to have to be somewhat vague here. "Queen of the North" is the first person story of Adeleine, a young Haisla girl nicknamed Karaoke, who is a secondary character in

Monkey Beach

. It's a story about abuse, loss, heartbreak and revenge, written in a beautiful but somewhat raw style that fits the content perfectly. If you're interested in reading

Monkey Beach

, do so, and then pick up

Traplines

and read this. It will give you a whole new perspective on the final part of the novel.

Finally—I saved the best for last—

"A Long Story" by Beth Brant

earned a place among my all-time favourite short stories. Beth Brant is a Mohawk writer that I discovered during my Native Writing class. I liked everything I read by her, but this story in particular took my breath away. There are two plot lines: One takes place in 1890, and it shows the pain of a Native woman whose children were stolen away from her and taken to residential school. The other takes place in 1978, and it's also about a woman whose child is taken away from her—her ex-husband asks for full custody of their daughter and wins it, simply because the woman is a lesbian. What I loved about this story was, other than the remarkable writing, the fact that it managed to put me in the shoes of the characters so effectively. It managed to make me experience their emotions, even if the things they are going through are things I know nothing about. This is, for me, what the best writing does. It makes us see the world through another's eyes.

I'd like to share the story's final paragraph with you. It's not a spoiler—this isn't a plot-driven story, after all. I think it's a beautiful and immensely powerful paragraph, and no matter how many times I read it, it feels like a punch in the stomach for me:

The word lesbian. Lesbian. The word that makes them panic, makes them afraid, makes them destroy children. The word that dares them. Lesbian. I am one. Even for Patricia, even for her, I will not cease to be! As I kneel amidst the colourful scraps, Raggedy Anns smiling up at me, my chest gives a sigh. My heart slows to its normal speech. I feel the blood pumping outward to my veins, carrying nourishment and life. I strip the room naked. I close the door.
Of course, it has more impact in the context of the story. But I find it remarkable because, like I said, these things—motherhood, homosexuality, the pain of a loss this great—are outside the realm of my experience, and yet reading it makes me feel them for a moment. And it's crushing. I can only imagine what it must be like. It's not about picking a lover over a child or anything like that, but…having the whole world pressuring you, coercing you into giving up who you are, knowing that things would perhaps be easier if you did, but also knowing that do so would be to die, and finding the strength to resist.

This story is available in the book

An Anthology of Canadian Native Literature in English

.


---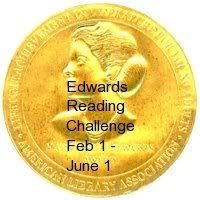 I know, I know. But it's only four books, two of which I had already picked for other challenges. And the other two were part of my unofficial plans anyway. And it's too cool to resist.

The Margaret A. Edwards Challenge

runs between the first of February and the first of June. Becky is inviting readers to pick 3 to 5 books by authors that won the Margaret A. Edwards Award for lifetime achievements in YA literature. For more details and a list of eligible authors, visit Becky's blog. My picks are:

Number the Stars

by Lois Lowry

(also for the Themed Reading Challenge)


Powers

by Ursula Le Guin




A Wrinkle in Time

by Madeleine L'Engle

(also for the YA Challenge)


Ender's Game

by Orson Scott Card
Possible extra:

Psyche in a Dress

by Francesca Lia Block